The New York Times Upshot / Siena College NY 11 Poll:

Donovan Has Small 44-40 Percent Edge Over Rose

Brooklyn Tilts Rose; Staten Island Tilts Donovan; Each Has 80+ Percent Support from Own Party; Independents Side with Donovan by 17 Points

Favorability Ratings: Donovan 50-31 Percent; Rose 47-23 Percent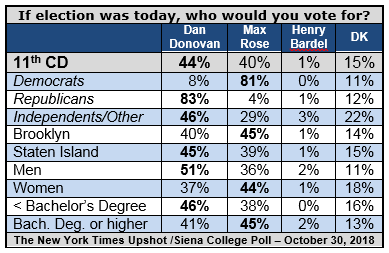 Loudonville, NY. Incumbent Republican Dan Donovan holds a narrow four-point lead, 44-40 percent, over his Democratic challenger, Max Rose, according to a new The New York Times Upshot/Siena College poll of likely NY 11 voters released today. Donovan has a 50-31 percent favorability rating, compared to Rose's 47-23 percent favorability rating.
"Donovan is cleaning up with Republicans and Rose is cleaning up with Democrats. Independents side with Donovan 46-29 percent," said Siena College pollster Steven Greenberg. "Brooklyn is Rose territory and Staten Island is Donovan country, although neither leads big in either borough. Women are with Rose by seven points, while men support Donovan by 15 points.
"While this is a district dominated by Democrats in enrollment, it is not a district where Democrats traditionally turnout in midterm elections," Greenberg said. "Rose needs to find a way to attract more Democrats to come out and vote if he wants to close the gap and try to take the lead. Donovan needs to continue to find a way to boost Republican turnout and hold the lead with independents if he wants to be re-elected to a second term."
# # #
This New York Times Upshot/Siena College NY 11 survey was conducted October 23-27, 2018 by telephone calls in English to 495 likely NY 11 voters. This poll has a margin of error of +/- 4.7 percentage points. Calls were made to a stratified weighted sample of voters from the L-2 Voter list via both land and cell phones. A likely-to-vote probability was computed for each respondent based on their stated likelihood to vote as well as by virtue of the imputation of a turnout probability score based on past voting behavior. This combined probability to vote score was applied as a weight along with a weight that considered party registration, age, region, education, and gender. The Siena College Research Institute, directed by Donald Levy, Ph.D., conducts political, economic, social and cultural research primarily in NYS. SCRI, an independent, non-partisan research institute, subscribes to the American Association of Public Opinion Research Code of Professional Ethics and Practices. For more information, please call Steven Greenberg at 518-469-9858. Survey cross-tabulations and frequencies can be found at: www.Siena.edu/SCRI/SNY.