Director
Founding Director
Director of Data Management
Business Development Manager
Coordinating Supervisor
Associate Director, NASCE
Assistant Director of Data Management
Director
Dr. Don Levy, Director. Dr. Levy currently serves as the director of the Siena College Research Institute (SCRI). Dr. Levy came to Siena in August of 2007 and has been instrumental in focusing Siena's polling not only on statewide and local politics but also on economic and social issues important to all New Yorkers.
Dr. Levy founded and served for two years as the Co-Director of the Institute for Social and Community Research (ISCR) at West Virginia Wesleyan College, and prior to that as Director of Research at the Center for Population Research (CPR) at the University of Connecticut. Dr. Levy holds a Ph.D., in Sociology from the University of Connecticut and a B.A. from Yale University.
In addition to supervising SCRI's political and economic polling, Dr. Levy has conducted studies while at Siena on the implications of the recession, civic engagement, health, charitable giving, leisure time and sports fanship and New Yorkers' attitudes towards the real estate market. Dr. Levy has recently completed polling in partnership with major media partners including the New York Times, C-SPAN, Newsday, the Albany Times Union and the Buffalo News.
Founding Director
Dr. Douglas A. Lonnstrom, Founding Director. A professor of finance and statistics, Dr. Lonnstrom served six years as head of the Quantitative Business Analysis Department at Siena and as Dean of Business for seven years. Dr. Lonnstrom has a Ph.D. in Urban and Environmental Studies from Rensselaer Polytechnic Institute and an MBA in Economics from Siena College. Dr. Lonnstrom served as a Director of SRI since its beginning and has written and spoken on its research in numerous venues and publications.
Director of Data Management
Meghann M. Crawford, Director of Data Management. Ms. Crawford acquired her research experience over the past six years working in both market research and public opinion polling at the Marist Institute for Public Opinion as Survey Operations Manager and Project Director. In addition to her main responsibilities of programming and data analysis, Ms. Crawford is involved in project and computer systems management. She holds an MBA from Marist College and a B.S. in Business from SUNY New Paltz.
Business Development Manager
Leslie Foster, Business Development Manager. Ms. Foster joined the staff at the Research Institute in October, 2014. Her work experience is in the CPG industry and in Education. Ms. Foster holds a B.A. in Communications from SUNY Plattsburgh and an M.S. Ed. Degree from the College of St. Rose.
Email: lkfoster@siena.edu | Office: (518) 783-4270 | Cell: (518) 573-5075 | Twitter: @LeslieFosterSRI
Coordinating Supervisor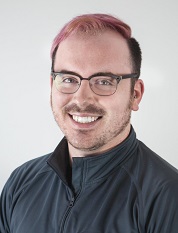 Derek Masterson, Coordinating Supervisor. Derek is the newest member of the SCRI Team. He has a background in human resources, and got his call center experience working for a private investigator. Derek ensures the integrity of the data collected at SCRI through coaching, training and development of the call center supervisors and interviewers. When he is not coaching or training in the call center, he can be found doing cartwheels and motivating the call center with laughs and good times. Derek has dubbed himself the "Unofficial Head of Morale" and strives to make SCRI the best place to work. Derek graduated with a B.A. from SUNY Potsdam.
Associate Director, NASCE
Assistant Director of Data Management
Colleen M. Kromrey, Assistant Director of Data Management. Mrs. Kromrey gained her research experience working in the private sector for nearly ten years and as a member of the Market Research Association (MRA). She is responsible for programming and data analysis. She also participates in project management and survey development. Colleen holds an A.A.S from Fulton Montgomery Community College and a B.A. in Sociology from Siena College.