Senate: Warnock 49% – Walker 46%
Governor: Kemp 50% – Abrams 45%
Voters Prefer Republican Senate Control 49-45%; Biden Job Approval 39-57%; Economic Issues more Important to Voters than Societal Issues 51-31%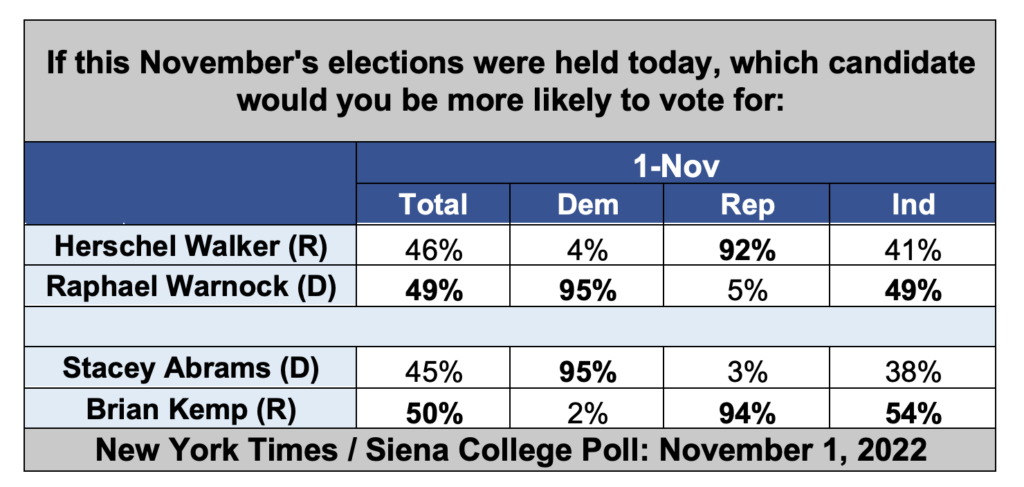 Siena College Research Institute Director Dr. Don Levy said: "Warnock has support from 95% of Democrats and Walker has support from 92% of Republicans, with independents backing Warnock 49-41%, tipping the balance to give Warnock a tight three-point edge heading into the final week. While Walker leads with men by six points, Warnock leads with women by 12 points. Warnock has a strong lead among voters under 65, however, Walker leads with voters 65 and older – often the most reliable midterm election voters – by 22 points, 57-35%. Warnock has a 49-45% favorability rating, compared to Walker's 39-54%.
"While Kemp and Abrams do an even better job of holding voters from their party than do the Senate candidates, this race looks completely different because of independent voters, who support Republican Kemp by 16 points and Democrat Warnock by eight points. Kemp has a better favorability rating, 55-40%, compared to Abrams' 46-48%."