Senate: Kelly 51% – Masters 45%
Governor: Lake 48% – Hobbs 48%
Secretary of State: Fontes 47% – Finchem 40%
Voters Prefer Republican Senate Control 49-42%; Biden Job Approval 36-60%; Economic Issues more Important to Voters than Societal Issues 44-40%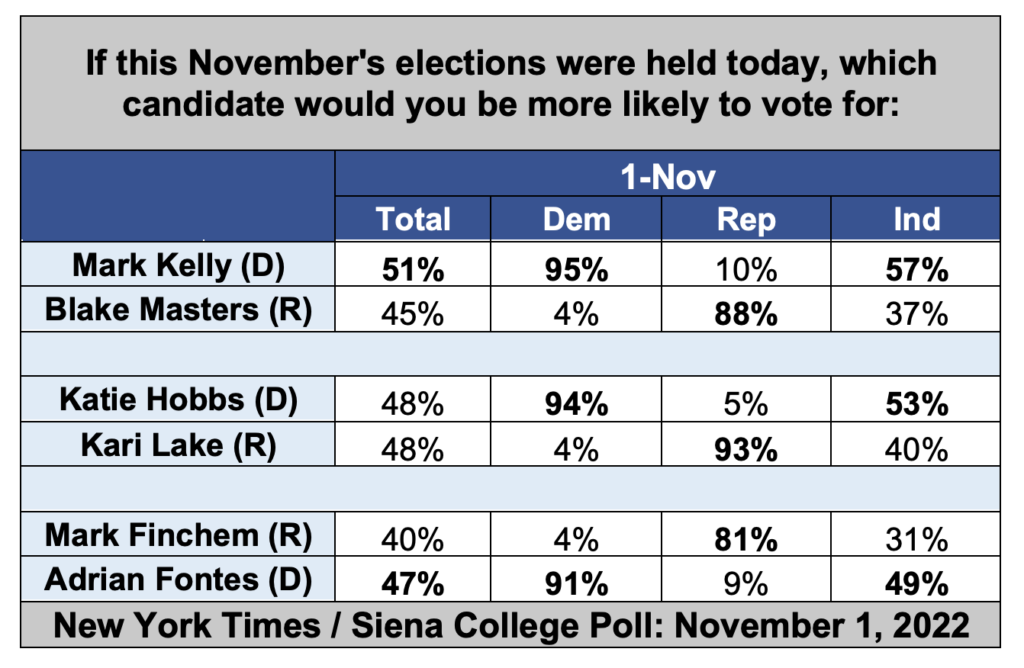 Siena College Research Institute Director Dr. Don Levy said: "Kelly has a six-point lead, doing better with Democrats than Masters is with Republicans, and leading with independents by 20 points. While Masters leads with men by 12 points and white voters by two points, Kelly leads with women by 22 points and Latino voters by 35 points. Kelly has a 47-45% favorability rating, compared to Masters' 38-47%.
"Lake and Hobbs, both with comparable favorability ratings, both hold at least 93% of voters from their party and Hobbs' lead with independents is 13 points. In the closely watched race for Secretary of State, Fontes has a seven-point advantage over Finchem driven by his 18-point lead among independents."