Mixed on Managing Vaccine Rollout & Reopening Plans
Negative for Making COVID Nursing Home Deaths Data Public
New Yorkers Overwhelmingly Support Biden's $1.9T COVID Relief Plan
16% of Voters Vaccinated; 59% Plan to Get Vaccine; 22% Do Not
Loudonville, NY. Voters approve the job Governor Andrew Cuomo is doing to address the coronavirus pandemic 61-34 percent, down slightly from 63-32 percent last month. On specific aspects of his handling of the pandemic, Cuomo gets positive grades for communicating with New Yorkers (67-33 percent) and providing accurate information (61-36 percent). He gets mixed grades for managing the vaccine rollout (48-49 percent) and implementing the right plans for reopening New York. However, voters give Cuomo a negative grade,
39-55 percent, on making public all data about COVID deaths of nursing home patients, according to a new Siena College Poll of New York State voters released today.
New Yorkers strongly support President Biden's $1.9 trillion COVID relief plan, 75-18 percent, as well as strongly supporting many of its specific proposals. So far, 16 percent of voters say they've been vaccinated, 59 percent plan to get vaccinated, and 22 percent of New Yorkers say they do not plan to get vaccinated.
This Siena College poll was concluded Thursday, February 11, prior to the most recent round of news coverage on Governor Cuomo and nursing homes, and the final verdict in the impeachment trial of former President Trump.
"Voters – especially Democrats – continue to give Cuomo strong marks for his overall handling of the pandemic. He gets a positive rating from 83 percent of Democrats and 52 percent of independents. However, 72 percent of Republicans give him a negative grade," said Siena College pollster Steven Greenberg. "Similarly, he gets overwhelmingly positive grades from Democrats, positive grades from independents and strongly negative grades from Republicans for communicating with New Yorkers and providing accurate information during the pandemic.
"While Democrats are positive about Cuomo's handling of the vaccine rollout and his plans to reopen New York, Republicans are overwhelming negative, and independents are negative as well," Greenberg said.
"When it comes to making public the data about the deaths of nursing home patients – the issue on which voters most harshly grade Cuomo – he only gets approval from 54 percent of Democrats, while 81 percent of Republicans and 63 percent of independents give him negative grades. New York City voters are closely divided but downstate suburbanites and upstaters give Cuomo negative grades," Greenberg said.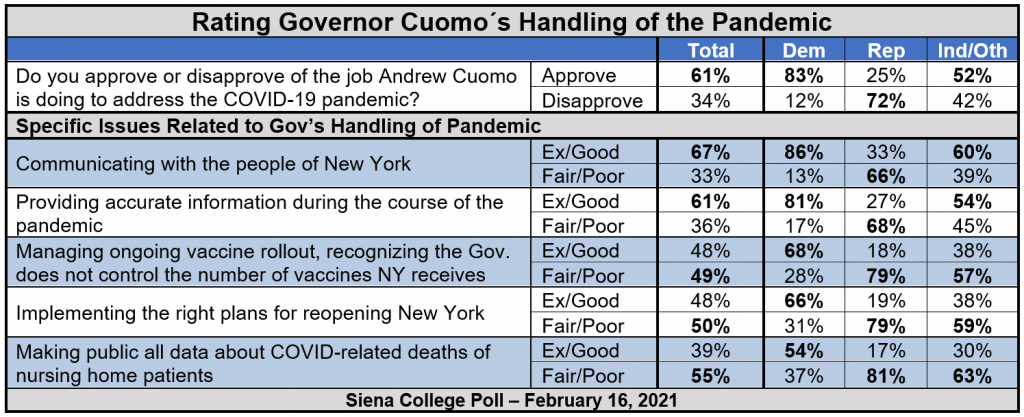 Cuomo has a 56-39 percent favorability rating, little changed from 57-39 percent in January. His job performance rating is 51-47 percent, down from 56-42 percent in January. Currently, 46 percent of voters say they are prepared to re-elect Cuomo if he runs for re-election in 2022 and 45 percent say they would 'prefer someone else,' down a little from 48-42 percent in November.
"While Cuomo remains popular and gets strong ratings across the board from Democrats, independents are closely divided on their feelings toward Cuomo. Republicans, who had shown Cuomo some love early in the pandemic last spring, are now overwhelmingly negative in their views on Cuomo," Greenberg said.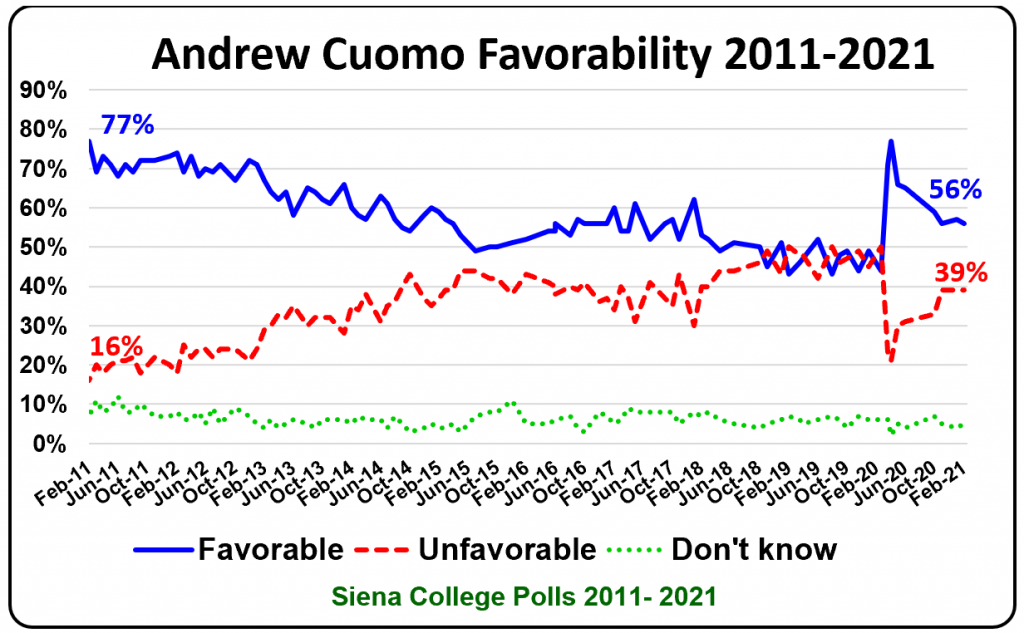 "Voters – at least Democrats – still believe the Legislature should continue to give Cuomo extraordinary executive powers to manage the pandemic, 53-37 percent, identical to last month's finding," Greenberg said. "Democrats support Cuomo keeping executive powers 73-18 percent, while independents oppose it 47-40 percent and Republicans want those powers taken away 70-22 percent."
Overwhelming Support for Biden's $1.9T COVID Relief Plan – and All of its Major Components
"Three-quarters of New Yorkers, including 91 percent of Democrats, 71 percent of independents and 45 percent of Republicans – support Biden's $1.9 trillion COVID relief plan, even though they 'may or may not agree with all of the components.' Other than Republicans and conservatives – both are virtually break-even – at least two-thirds of every other demographic group support the plan," Greenberg said.
"Interestingly, while Republicans are break-even on the overall package, they support – and in several cases, strongly support – each of six components of the plan," Greenberg said. "At least 82 percent of Democrats and at least 62 percent of independents support each of those components."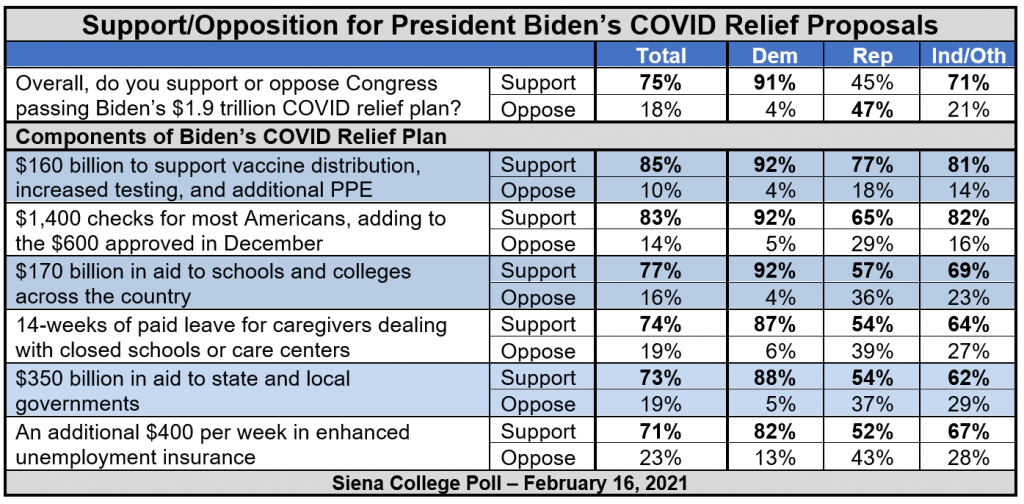 One in Seven Voters Has Already Been Vaccinated; 22% Not Planning on Getting Vaccinated
"While between 12 and 19 percent of voters from every region and party have been vaccinated, with Democrats and upstaters leading the way, there are distinct racial and income disparities in this early vaccination period," Greenberg said. "Although 20 percent of white voters have been vaccinated, only 10 percent of Black voters and five percent of Latino voters have been. Only nine percent earning less than $50,000 have been vaccinated, compared to 14 percent who earn between $50,000 and $100,000, and 25 percent of those earning over $100,000.
"When it comes to whether or not they plan to get vaccinated, there are wide differences by party and race. While only 17 percent of Democrats and 21 percent of independents do not plan to get vaccinated, 35 percent of Republicans say they will pass on the vaccine," Greenberg said. "Eighteen percent of white voters say no to the vaccine. However, 34 percent of Latino and 37 percent of Black voters say they don't plan on getting vaccinated."
Plurality of New Yorkers Now Believe the Worst of the Pandemic is Behind Us
In a significant shift from last month, voters say, by a 46-36 percent margin, the worst of the pandemic is over, rather than the worst is still to come. Last month, voters said 55-31 percent that the worst was still to come.
"While Republicans are most optimistic, 57-24 percent, that the worst is behind us, independents agree 42-32 percent and Democrats are virtually evenly divided. A plurality of voters from every region – between 45 and 47 percent – are optimistic," Greenberg said. "White voters say the worst is behind us, 49-31 percent, however, a majority of Black voters and a plurality of Latino voters say the worst is still to come."
Odds & Ends
Biden's first job performance rating as President is 55-38 percent, thanks to a 79 percent positive rating from Democrats. Seventy-two percent of Republicans and 46 percent of independents, a plurality, give him a negative job performance rating.
In his first month in office, Biden is enjoying a honeymoon with New York voters. He has a 65-29 percent favorability rating, up from 62-32 percent in January. He is viewed favorably by 90 percent of Democrats and 53 percent of independents, while 68 percent of Republicans view him unfavorably.
By a 61-33 percent margin, voters wanted to see the United States Senate convict former President Trump in his second impeachment trial. Eighty-seven percent of Democrats supported conviction and 72 percent of Republicans favored acquittal. Independents supported conviction 49-43 percent.
Sixty percent of New Yorkers think that Biden will have a positive impact on New York, compared to 17 percent who think he'll have a negative impact and 18 percent who say his Administration will have no real impact on New York.
Trump has a negative 26-67 percent favorability rating. While 88 percent of Democrats and 60 percent of independents view Trump unfavorably, 62 percent of Republicans continue to view him favorably.
Support for legalizing the recreational use of marijuana in New York is at its highest level ever in a Siena College poll, 63-29 percent, up from 56-33 percent last month. It is supported by more than two-thirds of Democrats and independents, and by a small 48-43 percent margin, Republicans oppose it.
By a 50-33 percent margin, up a little from 48-35 percent in January, voters support online sports betting. It's supported by 52 percent of Democrats, 53 percent of Republicans and a plurality, 46 percent, of independents. It has plurality support, 47-36 percent, in New York City and stronger majority support outside the City.
In a major turnaround, voters say the country is headed in the right direction 49-42 percent. In January, voters said the country was on the wrong track, 59-31 percent. Last month, Democrats said the country was on the wrong track 49-40 percent. Today Democrats like the direction of the country 69-23 percent. Republicans continue to be very negative on the direction of the country, 71-22 percent.
Voters say the state is headed in the right direction, 48-41 percent, down slightly from 50-40 percent last month. Seventy percent of Democrats are optimistic about the direction of the state, compared to 69 percent of Republicans and 53 percent of independents who say the state is headed on the wrong track.
This Siena College Poll was conducted February 7-11, 2021 among 804 New York State registered voters with 504 voters contacted through a dual frame (landline and cell phone) mode and 300 responses drawn from a proprietary online panel (Lucid) of New Yorkers. Telephone calls were conducted in English and respondent sampling was initiated by asking for the youngest person in the household. Telephone sampling was conducted via a stratified dual frame probability sample of landline (ASDE) and cell phone (Dynata) telephone numbers within New York State weighted to reflect known population patterns. Data from both collection modes (phone and web) was merged and statistically adjusted by age, party by region, race/ethnicity, education, and gender to ensure representativeness. It has an overall margin of error of +/- 4.3 percentage points including the design effects resulting from weighting. The Siena College Research Institute, directed by Donald Levy, Ph.D., conducts political, economic, social, and cultural research primarily in NYS. SCRI, an independent, non-partisan research institute, subscribes to the American Association of Public Opinion Research Code of Professional Ethics and Practices. For more information, call Steve Greenberg at (518) 469-9858. For survey crosstabs: www.Siena.edu/SCRI/SNY.