Upstate CEO's Grow More Pessimistic but Don't Expect Recession in 2020
Business Leaders Have Scant Confidence in NYS Government's Support as Optimism about Federal Help Declines
Concerns Include Government Regulation, Health Care Costs, Workforce Suitability, Despite Challenges, 41% Expect Increasing Revenues, 34% Growing Profits
Press Release Upstate Crosstabs Capital Region Crosstabs Central NY Crosstabs Finger Lakes Crosstabs Western NY Crosstabs
Loudonville, NY. Across Upstate New York, CEO confidence declined this year as only 17 percent, down from 27 percent a year ago, say that current business conditions in New York are better while 36 percent, up from 26 percent a year ago, say that conditions have worsened. Still, 53 percent of CEO's of private for-profit companies say it is not likely that the U.S. economy will be in recession between now and the end of 2020 according to the thirteenth annual Upstate New York Business Leader Survey from Siena College Research Institute sponsored by the Business Council of New York State, Inc. The Index of Business Leader Confidence, computed based on interviews with 667 business leaders of companies from the Capital Region, Central New York, the Finger Lakes region, the Mid-Hudson region, Mohawk Valley/Southern Tier, North Country, Westchester, and Western New York, stands at 75.3, down from 96.6 last year, well below the breakeven point of 100 at which overall optimism and pessimism towards the current and future economic conditions are balanced.
"Across Upstate, business leader confidence has dropped this year as CEO's have a less positive assessment of current conditions as well as growing concerns about the future. While few see a recession on the immediate horizon and well over half predict that their business will continue to be in business ten years from today, many are concerned about headwinds including governmental regulation, health care costs and workforce suitability," said Siena College Research Institute Director Don Levy.
Two-thirds of Upstate CEO's identify health care costs as a challenge while 65 percent cite governmental regulation and 58 percent are challenged by taxation. Only 6 percent say New York State is doing an excellent or good job of creating a business climate in which companies like theirs will succeed and only 13 percent are somewhat or very confident in the ability of the state government to improve the business climate. Majorities of CEO's continue to call for spending cuts (53 percent), business income tax reform (52 percent) and personal income tax reform (50 percent).
"Over half, 51 percent, say the Paid Family Leave Act has had an adverse impact on their business. More, 53 percent, say that minimum wage increases have hurt their business and 54 percent expect legislation to both reach zero carbon emissions in the electricity sector by 2040 and reduce greenhouse gas levels by 2050 will have an adverse effect on the New York State economy," Levy said.
CEO's have more confidence in the efforts of the federal government to improve business conditions but while last year over half gave the federal government a grade of good or excellent on creating a business climate in which they can succeed now that number is down by 12 points to 39 percent. Similarly, 37 percent, down from 46 percent last year, are somewhat or very confident in the ability of the federal government to improve the business climate for businesses like theirs.
"About four of every ten CEO's continue to give the federal government pro-business grades, over one-third have confidence in Washington's ability to improve conditions and 47 percent say that the federal tax reform has had a positive impact. Still adding to their poor assessment of state government and their negative reaction to recent legislation including the Paid Family Leave Act and minimum wage increases, a majority say the general business climate in their immediate area is staying the same while a third say it is worsening, and only 28 percent rate local governmental support for business as either good or excellent," Levy said.
Workforce Suitability
Fifty-nine percent of Upstate CEO's rate their local area as only fair or poor on workforce suitability. Only 39 percent give their local workforce suitability a grade of excellent or good. Only 21 percent of CEO's, down from 51 percent in 2013, say that there is an ample supply of local workers that are appropriately trained.
"When asked to rate the job applicants they see on seven attributes, CEO's assessments of potential employees are down in every category from what they thought in 2013 and in every case – technical skills, verbal skills, writing skills, initiative, work ethic, being realistic about compensation and professionalism – no more than 32 percent give applicants a grade of excellent or good," Levy said.

"Despite concerns among CEO's about workforce readiness, many are looking for candidates to hire, especially those that are ready to contribute on day one. Across Upstate, 30 percent of CEO's plan to increase their workforce in 2020 while only 12 percent intend to cut back," Levy said.
2020 Expectations
Nineteen percent, down from 27 percent a year ago, expect the economy in New York State to be better over the next year. Thirty-eight percent expect it to remain the same and 43 percent, up from 30 percent last year, expect the economy to worsen. Looking to the year ahead within their own industry, 18 percent, down from 27 percent last year, expect conditions to improve while 46 percent, up from 33 percent a year ago, anticipate worsening conditions.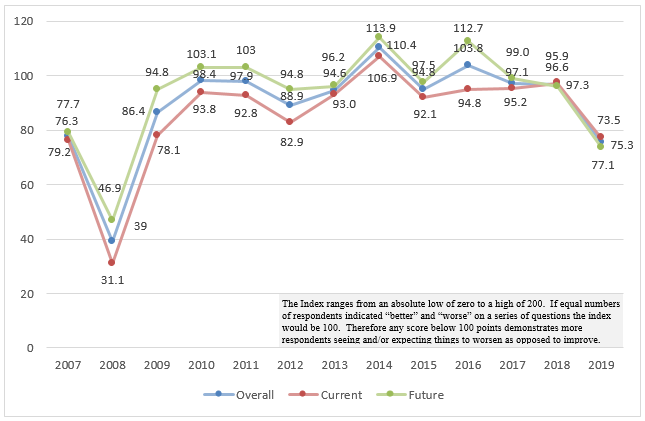 Fifty-five percent of CEO's say that they will concentrate on expansion of existing markets, 50 percent on growth in existing products, 29 percent on technology innovation, 27 percent on internal restructuring and 26 percent on entry into new markets.
Forty-one percent of CEO's, down from 50 percent last year, expect revenue growth in the coming year, while 34 percent, down only slightly from 37 percent last year, expect growth in profits. And 51 percent, down from 57 percent, of Upstate CEO's plan to invest in fixed assets in 2020.
"While the mood of Upstate CEO's is down this year, they will continue to invest in their companies, look for qualified workers and do the hard business of commerce each and every day. Few see a recession coming this year but many look for more understanding and support from elected officials as they face regulatory challenges in a market that they see as more and more challenging. Cash registers will ring and new equipment will be purchased but across Upstate only a third say that if they had it to do all over again, they would locate their business in New York," Levy said.
From The Business Council of New York State, Inc.
"The results of this survey should once again send a strong signal to lawmakers in Albany . The women and men that provide private sector jobs in New York State believe that more needs to be done to protect their investments and the people they employ." said Heather Briccetti, President & CEO of The Business Council of New York State. "These results compare closely to what we hear from New York business leaders every day, and reinforces our efforts promote pro-jobs, pro-investment reforms in Albany."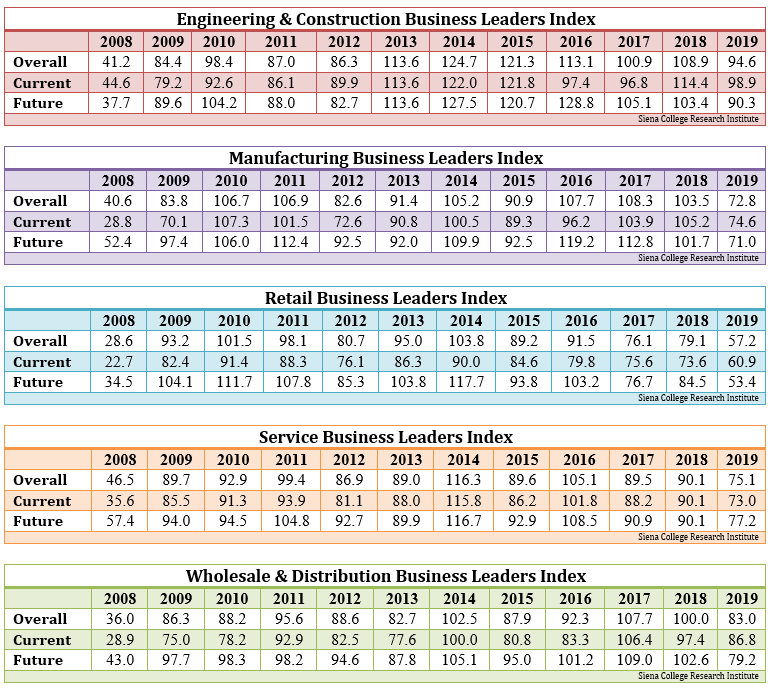 This Siena College Poll was conducted October – January 2019 by mail and internet interviews with 667 Business Leaders from across Upstate including the Capital Region, Central New York, the Finger Lakes region, the Mid-Hudson region, the Mohawk Valley/Southern Tier region, Westchester and Western New York. Sponsorship for the 2019 Upstate Business Leader Survey was provided by The Business Council of New York State. The study is released in conjunction with the following media partners: Capital Region: The Albany Times Union; Buffalo: Buffalo Business First; Rochester: Rochester Business Journal; Syracuse: Business Journal News Network, Westchester: Westchester County Business Journal, Rockland: Rockland County Business Journal. The Siena College Research Institute, directed by Donald Levy, Ph.D., conducts political, economic, social and cultural research primarily in New York State. SCRI, an independent, non-partisan research institute, subscribes to the American Association of Public Opinion Research Code of Professional Ethics and Practices. For more information, call Don Levy at (518) 783-2901 or dlevy@siena.edu.