Siena College: 12th Annual Upstate New York Business Leader Survey

Overall Upstate CEO Confidence Holds Steady at Breakeven Point; Current Sentiment Up Slightly; Future Expectation Down

Over Half of Business Leaders Now Give Federal Govt. High Marks on Creating Successful Business Climate; Have Little Confidence in State Government

CEO's Cite Strengths as Responding to Customer Needs, Working Collaboratively, Promoting Employee Growth; Weaknesses include Innovation, Responding to Changing Conditions & Setting Goals
Press Release Upstate Total Crosstabs
Albany Crosstabs Buffalo Crosstabs
Rochester Crosstabs Syracuse Crosstab
Loudonville, NY. Across Upstate New York, CEO confidence held steady, dropping only a half point this year, demonstrating slightly less optimism than pessimism among leaders of private for-profit companies according to the twelfth annual Upstate New York Business Leader Survey from Siena College Research Institute sponsored by the Business Council of New York State, Inc. The Index of Business Leader Confidence, computed based on interviews with 427 business leaders of companies from Buffalo, the Capital Region, Rochester and Syracuse, stands at 96.6, down from 97.1 last year, below the breakeven point of 100 at which overall optimism and pessimism towards the current and future economic conditions are balanced. Current confidence was up two points from a year ago, but confidence in the future among Upstate business leaders fell by just over 3 points.
"Across Upstate, business leader confidence stayed virtually unchanged and remains just below the magic breakeven point this year. Confidence declined in Albany but remains strong and the highest of the four regions. Buffalo was up by almost 2 points but is still well below breakeven, Rochester rose by three points and Syracuse fell but sits right on the Upstate number. Despite holding steady overall, CEO's future expectations are the lowest we've seen in six years," said Siena College Research Institute Director Don Levy.
"Upstate CEO's continue to have little confidence in state government's efforts to enhance business conditions. CEO's call for spending cuts and tax reform, and they feel as though the state is moving in the wrong direction on the regulatory environment, spending, ethics reform and workers compensation reform. About half, 48 percent, say the Paid Family Leave Law has negatively impacted them," Levy said.
CEO's have far more confidence in the efforts of the federal government to improve business conditions and over half give the federal government a grade of good or excellent on creating a business climate in which they can succeed. Over half, 52 percent, say that the recently passed federal tax reform legislation has had a positive impact on their business. Thirty-four percent say that new federal tariffs have had a negative impact on their business while 60 percent say the tariffs have had no impact.
Asked about 12 aspects of their organization's culture, CEO's list their strengths as operating as a team, responding to customer needs, supporting employee growth and always striving to improve. They say that their weakest areas are being innovative, responding to social and technological change and making sure that individual departments have short and long-term goals.
The Capital Region's overall index was down 3.8 points to 104.1, Syracuse decreased 3.3 to 96.7, Rochester increased 3.2 to 96.6 and Buffalo increased 1.8 to 89.4. Across Upstate, current confidence increased by 2.1 points while future expectations fell by 3.1 the lowest since 94.8 in 2012.
Fifty percent of CEO's expect revenue growth in the coming year, while 37 percent expect growth in profits. More companies plan to hire rather than fire – 38 percent intend to increase their workforce compared to 8 percent that plan on decreases. And 57 percent of Upstate CEO's, up from 56 percent a year ago, plan to invest in fixed assets in 2019.
Thirty-three percent (down from 41 percent) of Upstate CEO's now say that if they had it to do all over again considering all factors, that they would locate their business in New York and 66 percent expect their business will be in business in New York in ten years.
"CEO's continue to call on state government to cut spending, curtail regulation, reform workers compensation and enact ethics reform. But they say the state is moving in the wrong direction on each of those. Their view of the federal government is quite different. Today over half give the feds a thumbs up for creating a successful business climate when two years ago that number was a nearly invisible seven percent. Many applaud the new tax legislation and two-thirds say the health of our economy is on the right track," Levy said.
A large majority of CEO's say the country is headed on the right track when it comes to the health of our economy and the taxes businesses pay. However, more than half indicate that when it comes to the cost of health care and the federal budget deficit, the country is moving in the wrong direction. As for state issues, majorities of CEO's think state spending, the regulatory environment, ethics reform, and workers compensation reform are all moving in the wrong direction. Only a quarter believe that infrastructure development is headed on the right track.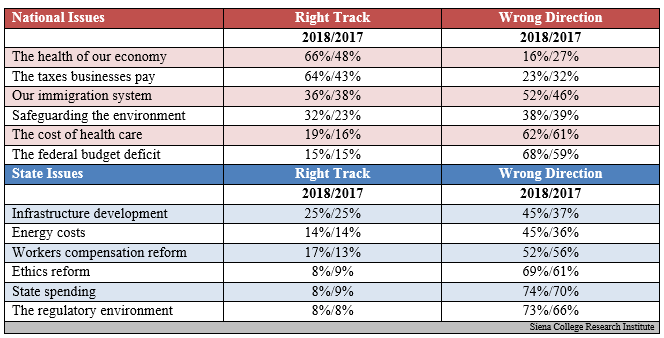 Asked to assess their company's ethos by indicating how descriptive each of 12 statements are of their firm, CEO's ranked their companies highest on listening to and responding to the needs of their customers (63 percent completely descriptive/score of 90), operating as a team (53 percent completely descriptive/ score of 87), and encouraging and supporting employees in their personal and professional growth (54 percent completely descriptive/score of 85). Weakest areas include being innovative (15 percent completely descriptive- note question reversed-/score 57), individual departments having short and long-term goals as well as a process they use to assess progress on those goals (25 percent completely descriptive/score of 65) and being on top of how economic, social and technological change affects them (20 percent completely descriptive/score of 68).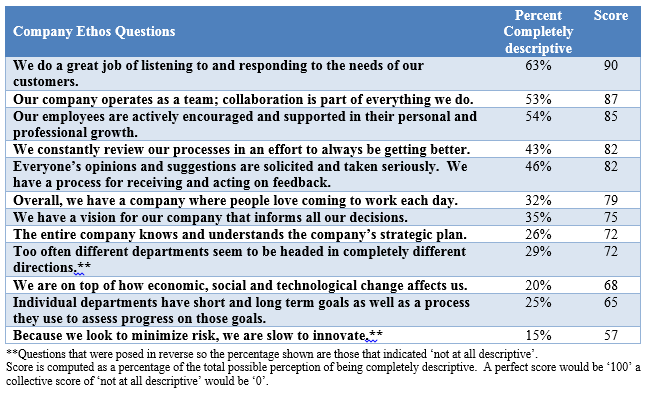 From The Business Council of New York State, Inc.
"We are seeing several significant recurring themes. While business leaders feel confident in how they are addressing factors within their control, and that they have benefited from some major federal policy initiatives, they still feel that a major burden is being imposed by New York State, with little expectation of relief," said Heather C. Briccetti Esq., president and CEO of The Business Council of New York State, Inc. "As an example, nearly half of upstate CEOs say that the state's paid family leave mandate has negatively impacted their business, adding to the challenges of operating in New York. They are expressing concerns about other labor law mandates and restrictions being considered in Albany. Moreover, their survey responses continue to reflect the reality of modest economic growth across upstate New York. Importantly, businesses are continuing to make capital investments in order to improve productivity, but most are projecting modest job growth, and moderate sales growth, for 2019. Not surprising, employers remain concerned about the availability to obtain skilled workers. To us, the message is clear – the state needs to both promote economic growth, and reduce self-imposed economic headwinds."
Addendum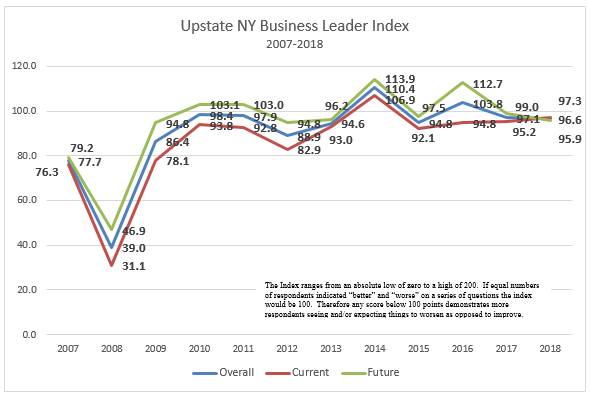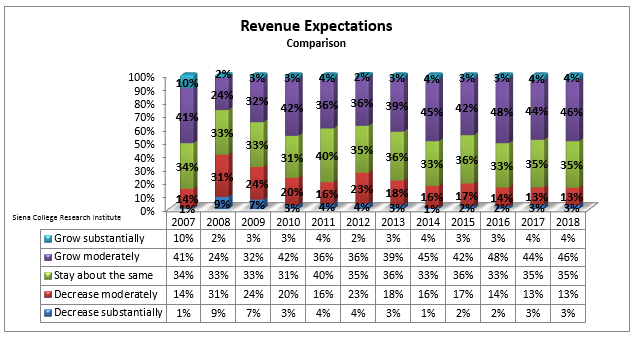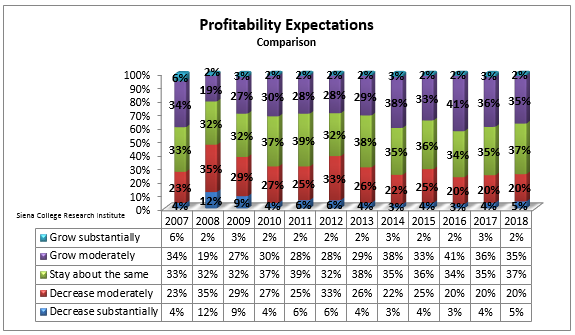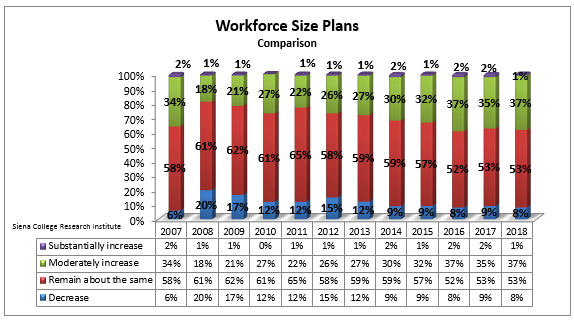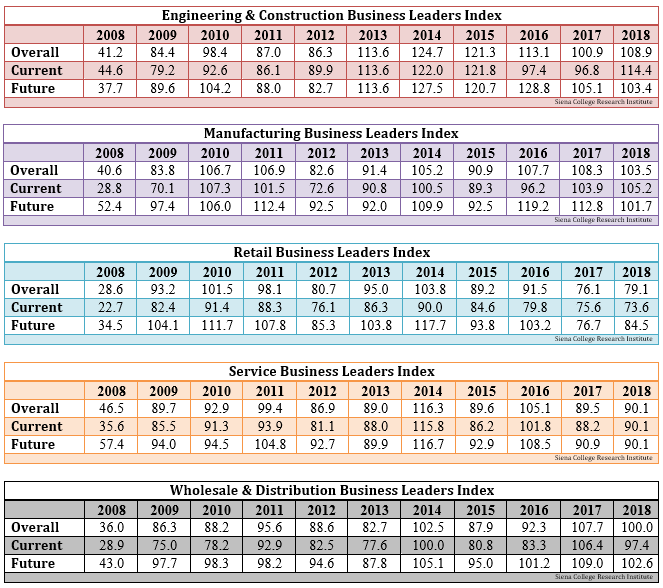 This Siena College Poll was conducted October – January 2019 by mail and internet interviews with 427 Business Leaders from the Albany, Buffalo, Rochester and Syracuse MSA's. Sponsorship for the 2018 Upstate Business Leader Survey was provided by The Business Council of New York State. In each of the four MSA's the study is released in conjunction with the following media partners: Albany: The Albany Business Review; Buffalo: Buffalo Business First; Rochester: Rochester Beacon; Syracuse: Business Journal News Network. The Siena College Research Institute, directed by Donald Levy, Ph.D., conducts political, economic, social and cultural research primarily in New York State. SCRI, an independent, non-partisan research institute, subscribes to the American Association of Public Opinion Research Code of Professional Ethics and Practices. For more information, call Don Levy at (518) 783-2901 or dlevy@siena.edu. For survey cross-tabs and frequencies: www.Siena.edu/SCRI