The web-based NASCE instrument was developed and tested by Dr. Don Levy, Director of the Siena College Research Institute, and Dr. Mathew Johnson, Professor of Practice and Director of the Swearer Center at Brown University.
DEFINING COMMUNITY ENGAGEMENT
THE POP SCORE
NASCE DATASET
NASCE BENEFITS
SURVEY INSTRUMENT
DEFINING COMMUNITY ENGAGEMENT
DEFINING COMMUNITY ENGAGEMENT
Community Engagement is defined as the extent to which college and university students serve the unmet human needs of people in their communities (i.e. Housing, Health Issues, Hunger , etc.). The term community engagement includes community service and civic engagement activities consistent with Putnam's concept of social capital that require the time and effort of the participant, with the ultimate goal of bettering the community. In the context of the NASCE, community engagement incorporates all community service activities participated in by students through individual efforts, clubs or organizations, work or internships and classes.
The NASCE instrument asks students about their participation in community service across 9 areas of human need. Definitions are as follows:
COMMUNITY SERVICE
Any activity, including internships and work study, in which you participate with the goal of providing, generating and/or sustaining help for individuals and groups who have unmet human needs in areas like shelter, health, nutrition, education, and opportunity.
9 AREAS OF NEED
•  Civic Participation/Promoting public awareness (e.g. voter awareness, human rights, refugees & immigration, public safety)
•  Economic Opportunity, Access, and Development (e.g., tax assistance, job training, fair trade)
•  Environmental (e.g. local clean-up, environmental advocacy)
•  Working to promote Health or Fitness (e.g. donating blood, visiting the sick, raising money to combat a disease)
•  Youth (e.g. tutoring, coaching, working on a toy drive)
•  Addressing Homelessness or Housing (e.g. Habitat for Humanity, Affordable Housing)
•  Elder Care (e.g. adopt a grandparent, nursing home)
•  Addressing Hunger or Nutrition issues (e.g. soup kitchen, food drive)
•  Religious or Spiritual service (e.g. teaching a Sunday School class, mission work)
THE POP SCORE
THE POP SCORE
The "Percent of the Possible" or POP Score is a quantitative measurement for understanding the breadth and depth of a student body's total levels of community involvement.  The POP Score combines each student's rate, frequency, and depth of service into one easy-to-understand score. Student's survey responses are used to generate an individual-level POP Score for each area and overall, based on the following calculus:
SERVICE RATE
Engaged in any of the 9 areas:         
•  Yes (1)
•  No (0)
FREQUENCY
•  Once or twice a year (1)
•  Several times a year or once a month (2)
•  Several times a month (3)
•  Weekly or more (4)
DEPTH
•  Participate at an event or short term drive. Usually a one-shot type involvement (1)
•  Involved on a regular basis for a period of time (2)
•  Deeply involved in a project or cause and dedicated to it (3)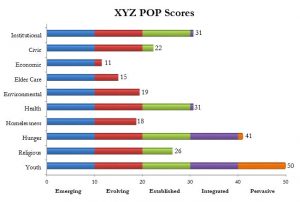 NASCE DATASET
NASCE DATASET

To date, the NASCE survey has been completed by more than 57,000 undergraduate students from over 100 distinct colleges and universities across the country.
At the institutional level, NASCE data guides strategic planning efforts to enhance campus-wide community engagement, and provides comparative analyses for assessing how well participant institutions are meaningfully engaging their students in the community.
As the number of NASCE participants grows, so does our understanding of student community involvement not only at individual institutions but across higher education, at specific types of institutions, in specific areas of need.
NASCE BENEFITS
NASCE BENEFITS
•  Web-based, customizeable, and affordable assessment tool for community engagement

•  Measures breadth and depth of community engagement through unique POP Score

•  Comparative dataset of more than 57,000 student responses from over 100 institutions

•  Assesses service activities across 9 areas of human need, for identifying best practices and establishing where to focus improvement efforts

•  Assesses attitudes towards service, motivations/obstacle to serving, and how students hear about service opportunities

•  Institutional-specific questions about curricular and co-curricular community engagement

•  Provides individual-level data for drawing conclusions about student sub-sets and the student body as a whole

•  Establishes set of baseline data, to incorporate into strategic plan and benchmark for improvements.

•  Paves the way for informed decisions and realistic goal-setting about campus-wide community engagement
SURVEY INSTRUMENT