Voters: Affordable Housing – Like Crime – is Serious Problem in NY & Community
NYS Reps: Trump 52%, DeSantis 27%, Someone Else 18%
NYS Dems: Renominate Biden 43%, Different Candidate 51%
Hochul Favorability & Job Approval Drop a Little; Biden's Drop a Little More
Loudonville, NY. Two budget proposals being debated have overwhelming bipartisan support – raising income taxes for those making at least $5 million, 76-19%, and giving judges more discretion setting bail for those accused of serious crimes, 72-20%. There is majority support for banning flavored tobacco, and providing fiscal incentives to municipalities that meet increased housing goals. Allowing SUNY to increase tuition garners strong bipartisan opposition, according to a Siena College poll of registered New York State voters released today.
Voters see both affordable housing and crime as serious problems across New York and in their communities. Statewide, 92% say crime is a serious problem (62% very serious), and 90% say affordable housing is a serious problem (58% very serious). In their community, 83% (50% very) say affordable housing is a serious problem, and 65% (33% very) say crime is a serious problem. Sixty percent are concerned they could be a victim of crime.
A majority of Republicans, 52%, say they would vote for Donald Trump in a 2024 presidential primary, compared to 27% supporting Florida Governor Ron DeSantis and 18% who want someone else. A majority of Democrats, 51%, say they think their party should nominate someone other than Joe Biden for President in 2024.
"As Governor Kathy Hochul and state legislators work to pass a new state budget, two proposals being discussed enjoy strong bipartisan support and one has strong bipartisan opposition," said Siena College pollster Steven Greenberg. "More than three-quarters of voters support increasing the personal income tax for those making at least $5 million, including 64% of conservatives, and at least 60% of every other demographic group.
"And 72% of voters, up from 65% in January, support giving judges more discretion to set bail for those accused of serious crimes, including 76% of Democrats, 71% of independents and 69% of Republicans. Banning flavored tobacco continues to have strong support, 58-34%, including more than two-thirds of Democrats," Greenberg said. "There is also strong bipartisan opposition to a SUNY tuition increase of 3-6%."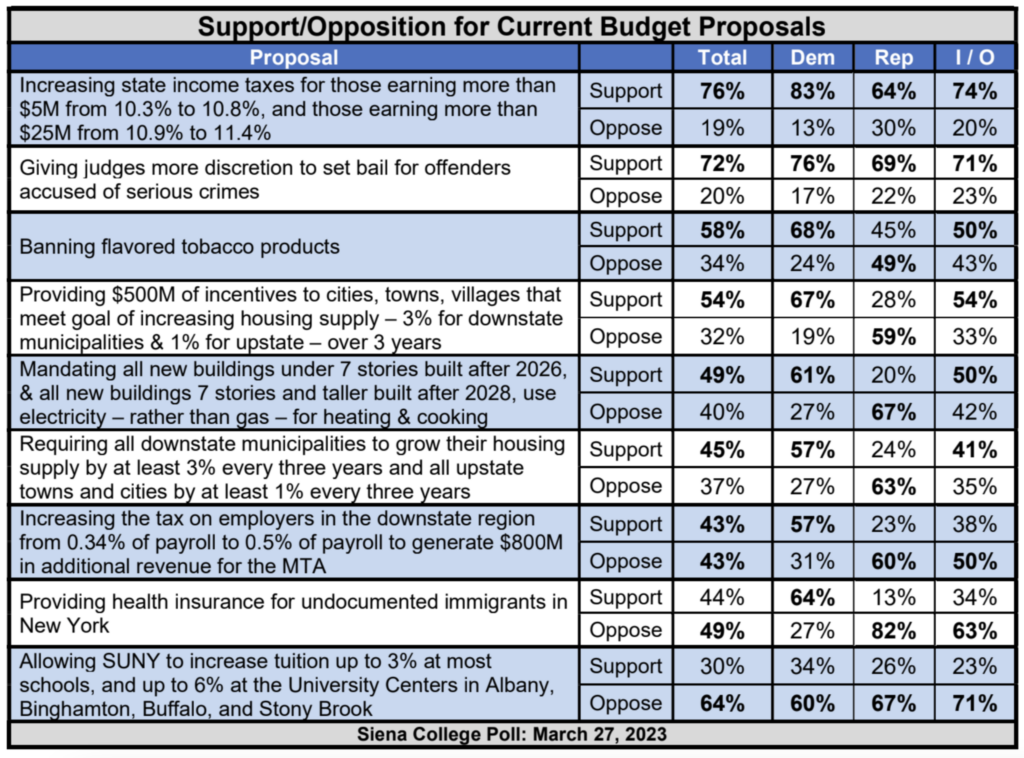 "Voters are more closely divided on several other issues. Mandates for electrification of new buildings is supported 49-40%. Increasing the MTA payroll tax divides voters evenly, 43-43%," Greenberg said. "Providing health insurance for undocumented immigrants is opposed 49-44%, despite support from 64% of Democrats."
Voters Say Affordable Housing & Crime are Serious Problems Across NY & In Their Communities
"For more than a year, at least 90% of voters have said crime is a serious problem in the state, at least 60% say very serious. For more than a year, at least 63% of voters have said crime is a serious problem in their community, at least 27% very serious. And today, 60% say they are concerned they could be a victim of crime, largely unchanged over the last year," Greenberg said.
"New Yorkers say the issue of affordable housing statewide is equally as serious a problem as is crime. In their community, however, voters – particularly Democrats, independents, downstate suburbanites, and upstaters – say affordable housing is both a more serious, and even a more very serious, problem than crime," Greenberg said.
"By a narrow 45-37% plurality, voters support mandates on municipalities to increase their housing supplies, including majority support from Democrats and plurality support from independents. By a larger 54-32% margin, voters support providing incentives to municipalities for increasing their housing supply," Greenberg said.
"When asked which option they support – mandates or incentives – 48% of voters say incentives, compared to only 15% who say mandates, and 15% who say both," Greenberg said. "Interestingly, providing incentives is the choice of 49% of independents, 47% of Republicans and 46% of Democrats."
2024: Trump Bests DeSantis with NY Republicans; NY Democrats Want 'Different Candidate' than Biden
"Among all New York Republicans – as well as in every region – Trump leads DeSantis handily, 52-27%, with fewer than one in five Republicans preferring another candidate. Trump leads 54-30% with conservative Republicans and 40-24% with moderates, a third of whom want a candidate other than Trump or DeSantis," Greenberg said. "For those 18% of Republicans who want another candidate, 20% chose Nikki Haley, 6% Liz Cheney, and the majority of that group don't know.
"Trump has a 38-57% favorability rating (37-60% last month) among all voters, 74-22% with Republicans. DeSantis has a 39-41% favorability rating with all voters, 62-24% with Republicans," Greenberg said. "Among Republicans who view both Trump and DeSantis favorably, Trump leads DeSantis in the matchup 59-35%.
"Only 43% of Democrats think their party should renominate Biden, while 51% prefer a 'different candidate.' A small majority of New York City Democrats think Biden should be renominated, but bigger majorities of upstate and downstate suburban Democrats want another candidate. Men say Biden; women say a different candidate," Greenberg said. "As to who that other candidate should be, nearly two-thirds don't have an opinion, with a scattering of support for Pete Buttigieg (5%), Kamala Harris, Elizabeth Warren and Bernie Sanders, all at 3%."
"Biden's favorability rating is 48-45% down from 54-43% last month. His job approval rating is 50-48%, down from 55-42% in February," Greenberg said. "Only Democrats view him favorably, 74-22%, and approve of the job he's doing, 74-23%. A strong majority of independents and an overwhelming majority of Republicans view him unfavorably and disapprove of the job he's doing."
Hochul Ratings Slip a Little in Last Month
Hochul has a 43-43% favorability rating, down slightly from 46-43% in February and 48-42% in January. Her job approval rating stands at 52-41%, down a little from 56-40% in February and 56-36% in January.
"Hochul hit her highest favorability and job approval ratings in January – although she has never had a majority of New Yorkers viewing her favorably – and has slipped a little in each of the last two months. It will be interesting, after the dust settles from the budget battles in the coming days – and weeks? – to see how voters grade Hochul – and the Legislature," Greenberg said.
"Nearly half of voters are following news about the budget very or somewhat closely. Thirty-four percent of voters, including 47% Democrats, think Hochul will do the best job representing them in budget negotiations, compared to 7% for Majority Leader Andrea Stewart-Cousins and 6% for Speaker Carl Heastie," Greenberg said. "One quarter of voters, including 47% Republicans, don't trust Hochul or the legislators to best represent them."
Odds & Ends
Senator Kirsten Gillibrand has 46-25% favorability rating, up from 43-36% last month. A plurality, 43%, of voters say they would vote to re-elect Gillibrand if she seeks another term next year, compared to 38% who would prefer 'someone else.' While 62% of Democrats are prepared to re-elect her, 65% of Republicans and 43% of independents, a plurality, would prefer someone else.
Senate Majority Leader Chuck Schumer also saw a bump in his favorability rating at 54-36%, up from 48-45% in February. Three-quarters of Democrats view Schumer favorably, while three-quarters of Republicans view him unfavorably, and independents are evenly divided, 44-44%
Voters continue to say the state and, to an even greater degree, the country are headed in the wrong direction. They say the state is headed in the wrong direction 48-39% (it was 49-41% in February) and the country is headed in the wrong direction 57-33% (from 56-35% last month).
###
This Siena College Poll was conducted March 19 – 22, 2023, among 802 New York State registered voters. Of the 802 respondents, 503 were contacted through a dual frame (landline and cell phone) mode and 299 respondents were drawn from a proprietary online panel (Lucid). Telephone calls were conducted in English and respondent sampling was initiated by asking for the youngest person in the household. Telephone sampling was conducted via a stratified dual frame probability sample of landline and cell phone telephone numbers weighted to reflect known population patterns. The landline telephone sample was obtained from ASDE and the cell phone sample was obtained from Dynata. Data from collection modes was statistically adjusted by age, party by region, race/ethnicity, education, gender, and 2020 vote by region to ensure representativeness. It has an overall margin of error of +/- 4.6 percentage points including the design effects resulting from weighting. The Siena College Research Institute, directed by Donald Levy, Ph.D., conducts political, economic, social, and cultural research primarily in NYS. SCRI, an independent, non-partisan research institute, subscribes to the American Association of Public Opinion Research Code of Professional Ethics and Practices. For more information, call Steve Greenberg at (518) 469-9858. For survey crosstabs: www.Siena.edu/SCRI/SNY.