Crime & Cost of Living Remain Voters' Top Two Priorities for Albany
Strong Support for Minimum Wage Based on Inflation, Lowering BAC for DWI to .05%, Increasing Cigarette Tax & Banning Flavored Tobacco
Banning All Fossil Fuel-Burning Equipment in New Construction Opposed 53-39%; Expanding Film Tax Credit Opposed 48-41%
Two-Thirds of NYers Say Santos Should Resign from Congress
Loudonville, NY. Governor Kathy Hochul's favorability and job approval ratings both ticked down this month, while President Joe Biden's ratings both edged higher. Hochul has a 46-43% favorability rating, from 48-42% last month, and her job approval rating stands at 56-40%, from 56-36%. Biden's favorability rating is up to 54-43%,from 49-47% last month, his best since October 2021, and his job approval rating hit a new high, 55-42%, up from 51-47% in January, according to a Siena College poll of registered New York State voters released today.
Crime should be Albany's top priority, say 36% of voters, followed by cost of living, 27%, and affordable
housing, 13%, with public health, environment and racial justice in single digits. When combining voters' top two priorities, cost of living (62%) tops the list, followed by crime (55%), and the other issues far behind. Ninety-two percent of New Yorkers say crime continues to be a serious problem across the state and two-thirds continue to say it's a serious problem in their community.
"Both Hochul's favorability and job approval ratings dipped a little this month, but her favorability remains slightly positive and her overall job approval rating remains strong, particularly with – and only with –Democrats," said Siena College pollster Steven Greenberg. "On specific aspects of the job she's doing, voters give Hochul a mixed report card.
"A majority approve of the job she's doing to encourage businesses to locate in New York and a small plurality approve of the job she's doing to increase availability of affordable housing. At the same time, a plurality disapproves of the job she's doing to address crime, and a majority disapproves of her efforts to make New York more affordable," Greenberg said. "Democrats approve of the job she's doing in all four areas while Republicans and independents disapprove in all four areas."
Biden Has Best-Ever Job Approval & Best Favorability Rating in a Year and a Half
"Overall, New Yorkers are giving Biden his best ratings since 2021. Ironically, the upward swing is not because of Democrats – at least three-quarters of Democrats both view him favorably now and last month, and approve of the job he's doing, both now and last month – but rather Republicans and independents. And to be clear, Republicans and, to a lesser degree, independents continue to view Biden unfavorably and disapprove of the job he's doing – but he's doing significantly less poorly with both this month," Greenberg said.
"On specific aspects of the job Biden's doing, like Hochul, he also gets mixed grades. Double digit majorities approve of the job he's doing to protect American democracy and keep America safe. But slightly smaller majorities disapprove of the way he's addressing both immigration and inflation," Greenberg said. "Democrats strongly to overwhelmingly approve of his job on all four, while Republicans, and to a lesser extent independents, disapprove of his job on all four, although on protecting democracy, independents are closely divided."
Crime – Still a Serious Concern for NYers – and Cost of Living Remain Voters' Priorities for Albany
"Crime and cost of living were voters' top two priorities for Albany back in December heading into this session, and they remain the two issues voters want Hochul and the Legislature to prioritize," Greenberg said. "Crime is the top priority for Republicans, independents, downstate suburbanites, and upstaters, while for Democrats and New York City voters, cost of living edges out crime for the single top priority.
"For more than a year, more than nine in 10 voters have said crime is a serious problem – 60% very serious – and more than six in 10 have said that crime in their community is a serious problem –34% now say very serious," Greenberg said. "At least 55% of voters from every party, region and race, think crime in the state is a very serious problem. When it comes to crime in their community, voters of color and those from New York City are significantly more concerned than are white, downstate suburban and upstate voters, who also remain concerned."
Voters Strongly Support 4 Hochul Budget Proposals; 2 Get Strong Bipartisan Support; 2 Opposed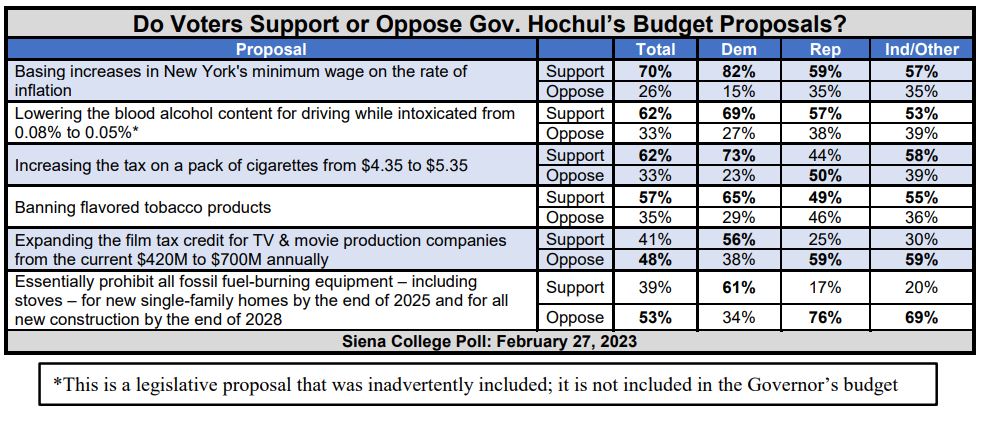 "Similar to last month, basing minimum wage increases on the inflation rate has strong bipartisan support, as does lowering the BAC for DWI to .05%," Greenberg said. "Democrats, overwhelmingly, and independents, strongly, support both increasing the tax on cigarettes by a buck and banning flavored tobacco products. Republicans are more closely divided, opposing the tax by six points, and supporting the flavor ban by three points.
"Expanding the film tax credit is supported by Democrats but more strongly opposed by Republicans and independents. Similarly, Democrats strongly support Hochul's proposal on prohibiting fossil fuel-burning equipment in most new construction within the next several years, however Republicans and independents are even stronger in their opposition," Greenberg said.
Santos: More Voters Know Him, View Him Unfavorably & Want Him to Resign from Congress
Rep. George Santos has a negative 17-64% favorability rating, down further, from 16-56% in January. Currently, 66% of voters statewide say he should resign from Congress, up from 59% last month.
"The 'good' news for Santos is that even in these hyper partisan times, he's found a way to get Democrats, Republicans and independents to agree about a political figure. The bad news for Santos is that the political figure they agree on is him, and they overwhelmingly view him unfavorably," Greenberg said. "It's not just that 72% of Democrats want him to resign, so do 63% of independents and 58% of Republicans."
Odds & Ends
Voters say that the National Republican Party has become too extreme, 57-30%. By a smaller 51-38% margin, they say the National Democratic Party has become too extreme. Not surprisingly, nearly three-quarters of Democrats think Republicans are too extreme and a similar number of Republicans say the same about Democrats. Independents think they're both too extreme, Democrats (61%) more than Republicans (54%).
Voters are a little less downbeat about the direction of the state and the country. They say the state is headed in the wrong direction 49-41% (49-39% in January) and the country is headed in the wrong direction 56-35%, down from 63-28% last month.
Recently declared presidential candidate Nikki Haley debuts in the Siena College Poll with a 30-39% favorability rating, with 31% either never having heard of her or not knowing enough to have an opinion. Republicans view her slightly favorably, 32-29%. Democrats are negative, 26-46%.
###
This Siena College Poll was conducted February 19-23, 2023, among 744 New York State registered voters with 520 voters contacted through a dual frame (landline and cell phone) mode and 224 responses drawn from a proprietary online panel (Lucid) of New Yorkers. Telephone calls were conducted in English and respondent sampling was initiated by asking for the youngest person in the household. Telephone sampling was conducted via a stratified dual frame probability sample of landline and cell phone telephone numbers weighted to reflect known population patterns. The landline telephone sample was obtained from ASDE and the cell phone sample was obtained from Dynata. Data from both collection modes (phone and web) was merged and statistically adjusted by age, party, region, race/ethnicity, education, gender, and 2020 vote by region to ensure representativeness. It has an overall margin of error of +/- 5.0 percentage points including the design effects resulting from weighting. The Siena College Research Institute, directed by Donald Levy, Ph.D., conducts political, economic, social, and cultural research primarily in NYS. SCRI, an independent, non-partisan research institute, subscribes to the American Association of Public Opinion Research Code of Professional Ethics and Practices. For more information, call Steve Greenberg at (518) 469-9858. For survey crosstabs: www.Siena.edu/SCRI/SNY.