Spectrum News / Siena College Florida Poll:
DeSantis Favorability, 50-43%; Crist Favorability, 34-39%
Voters Say Economy is Most Important Issue in Determining Vote; Threats to Democracy, Immigration & Abortion Next Most Important
Loudonville, NY. Incumbent Republican Governor Ron DeSantis has an 8-point lead, 49-41%, over Democratic challenger Charlie Crist. In the race for the U.S. Senate, Republican Senator Marco Rubio leads Democratic Representative Val Demings by seven points, 48-41%, according to a new Spectrum News/Siena College poll of likely Florida voters completed prior to Hurricane Ian hitting Florida.
DeSantis has a 50-43% favorability rating, while Crist has a negative 34-39% favorability rating, with more than a quarter of voters either not knowing him or having no opinion about him. Rubio has a slightly negative 41-44% favorability rating compared to Demings' 33-22% favorability rating. The economy is a top issue for 58% of voters as they determine their vote this year, followed by threats to democracy (27%), immigration (23%), abortion (21%), and crime (20%).
"DeSantis, the sitting governor has an 8-point lead over Crist, the former Congressman and Governor. DeSantis has the support of 95% of Republicans and a majority, 52% of independents while Crist is the preference for 90% of Democrats but only 34% of independents," said Don Levy, Siena College Research Institute's Director. "Additionally, DeSantis has a solid 50-43% favorability rating, including being viewed favorably by a majority of independents, compared to Crist's 34-39% favorability rating, with more than a quarter of the electorate not having an opinion about him including 20% of Democrats.
"There is a gender gap. By 24 points men support DeSantis, 57-33% while a plurality of women, 48-42% support Crist," Levy said. "DeSantis leads Crist in every region of the state except the southeast. Crist has a huge lead among Black voters 74-8%, however, white voters back DeSantis 57-37%."
"Rubio has the support of 94% of Republicans and leads by 10 points, 45-35% over Demings among independents. Demings has an 89-4% advantage among Democrats," Levy said. "Men are with Rubio by 26 points, while women support Demings by 10 points. White voters support Rubio by 54-37%, however Black voters back Demings 80-9%. Demings trails in her 'home' area of Orlando by 8 points."
Economic Issues Dominate Voters' November Decision Making
"Economic issues are by far the dominant election issue for Republicans and independents, but the top issue for Democrats is threats to democracy followed closely by abortion and the economy," Levy said. "While abortion doesn't make it into the top seven issues for men, it's the second most important issue for women. Black voters say racial justice is their top issue just ahead of the economy."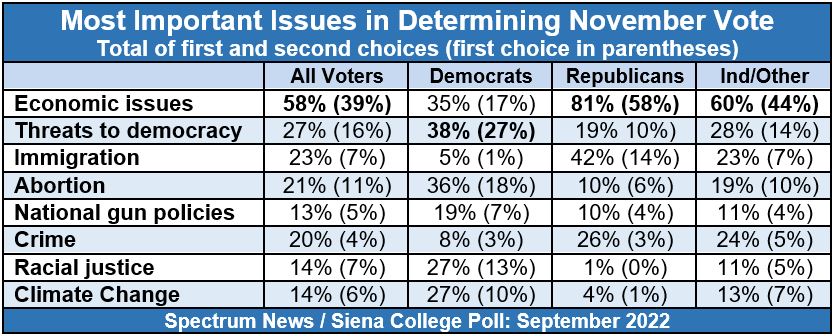 Odds & Ends
Voters oppose the Supreme Court decision overturning Roe v. Wade 57-34%, 50% strongly oppose. Republicans support it three-to-one, but 91% of Democrats and 59% of independents oppose the decision. The plurality, 41%, say that the current Florida abortion law – legal until the 15th week – should remain as is. While 16% say that law should be made more restrictive, 37% would prefer it be less restrictive.
By 49-44%, voters support the State of Florida sending migrants from Florida to other states including Massachusetts and New York.
Small majorities oppose both the 'Don't Say Gay' Law (50-44%) and the 'WOKE' Act (51-34%).
Incumbent Ashley Moody holds a 7-point lead, 41-34% over the Democratic challenger Aramis Ayala in the race for Florida's Attorney General.
Voters are divided, 47-48%, on President Biden's decision to cancel up to $20,000 in student loans for certain borrowers.
By an overwhelming 84-12% voters support mandating universal background checks. A small majority, 50-46% support banning assault-style weapons and by 50-44% voters oppose arming teachers in schools.
###
This Spectrum News/Siena College survey was conducted September 18-25, 2022 by telephone calls in English and Spanish to 669 likely Florida voters. Telephone sampling was conducted via a weighted stratified dual frame sample of landline and cell phone drawn from the L-2 database of registered voters. Data was statistically adjusted by age, race/ethnicity, education, regional vote pattern in the 2020 election, a combined measure of stated and derived vote likelihood, and gender to ensure representativeness. It has an overall margin of error of +/- 4.5 percentage points including the design effects resulting from weighting. The Siena College Research Institute, directed by Donald Levy, Ph.D., conducts political, economic, social, and cultural research primarily in NYS. SCRI, an independent, non-partisan research institute, subscribes to the American Association of Public Opinion Research Code of Professional Ethics and Practices. For more information, call Don Levy at (518) 783-2901. For survey crosstabs: https://scri.siena.edu/category/spectrum/