In a Fall Preview of June's Primary, Democrats Give Hochul Early Double-Digit Lead in 3 Potential Candidate Scenarios
New Gov Has Positive Favorability Rating – Comparable to AG James – But Her Job Performance Rating is Tilting Negative; Under Water on Several Issues
Reducing Crime Is Most Important State Issue for Voters – Dems, Reps & Inds.
Loudonville, NY. As New Yorkers learn more about their new governor and Democrats look ahead to a June gubernatorial primary, Governor Kathy Hochul leads her closest opponent by between 14 and 19 points in three potential primary scenarios, according to a new Siena College poll of registered New York State voters.
In one potential five-way primary, Hochul leads with 31 percent, followed by former Governor Andrew Cuomo, 17 percent, Attorney General Letitia James, 14 percent, NYC Public Advocate Jumaane Williams, seven percent, and NYC Mayor Bill de Blasio, six percent. With Cuomo excluded, Hochul gets 39 percent, James 20 percent, de Blasio 10 percent, and Williams eight percent. In a head-to-head match-up, Hochul leads James 47-31 percent.
Hochul has a 42-26 percent favorability rating, down from 42-17 percent last month. Her job performance rating is now negative 43-45 percent, down from 44-37 percent in September. Only between 27 and 42 percent of New Yorkers give Hochul positive grades on five different issues, while between 38 and 51 percent give her negative grades; she is close to break even on her handling of the pandemic and natural disasters but gets negative grades for cleaning up Albany corruption, strengthening the economy and 'addressing issues important to you.'
"Predicting June's Democratic gubernatorial ballot 36 weeks from primary day, four months before a state party convention with only Hochul declared is not for the faint hearted. That said, Siena presented Democrats with three potential primary matchups and in each case, Hochul leads by double digits. But let's repeat, we are 36 weeks away with an unknown field, and most potential candidates being, like Hochul, largely unknown to a wide swath of voters," said Siena College pollster Steven Greenberg.
"In all three horseraces, the vote is tight in New York City, the region producing the most Democratic primary votes, but downstate suburban and upstate Democrats give Hochul large leads in all three matchups," Greenberg said. "James leads Hochul with Black Democrats in all three configurations, while Hochul is ahead by even larger margins with both white and Latino Democrats in all three. Hochul leads with both liberals and moderates."
"Then there's the elephant – or perhaps the donkey – in the room. Will Cuomo run again, trying for electoral redemption? While one out of six Democrats say they would support Cuomo over Hochul, James, et. al., 57 percent of Democrats say Cuomo should have resigned, compared to 35 percent who said he should have stayed, and by two-to-one Democrats say Cuomo has sexually harassed multiple women," Greenberg said.
"Interestingly, Hochul (58-12 percent) and James (54-12 percent) have similar favorability ratings among Democrats. And while both are more known to Democrats than other voters, both are still largely unknown to about one-third of Democrats. A long way to go," Greenberg said. "Williams has a 37-10 favorability rating with Democrats, while Cuomo is 49-43 percent and de Blasio is 36-47 percent."
Voters Divided on Hochul's Overall Job Performance Rating and Some Specifics; Negative on Others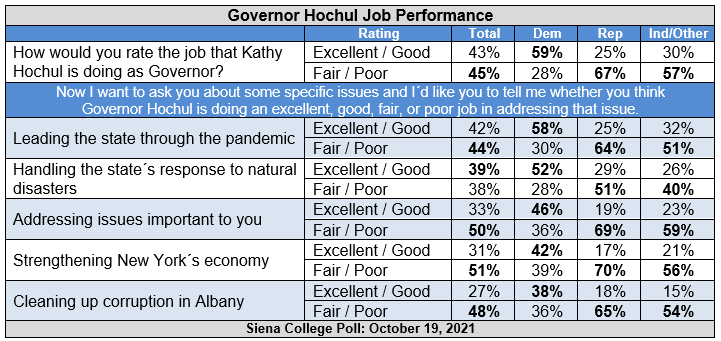 "Voters – particularly Republicans and independents – are not cutting the new governor much slack in judging her early performance. Independents are nearly two-to-one negative and Republicans rate her even more negatively than that," Greenberg said. "On specific issues, Republicans and independents rate her negatively on all. Democrats give her positive grades for the pandemic, handling natural disasters and addressing issues important to them, and virtual breakeven grades on the economy and cleaning up corruption."
Voters Rate Importance of State Issues: Crime, 82%; Racism, 61%; Vaccinations, 58%
"Voters universally call reducing community crime an important state priority – 82 percent say very important – and 85 percent say that addressing systemic racism is too, 61 say percent very important," Greenberg said.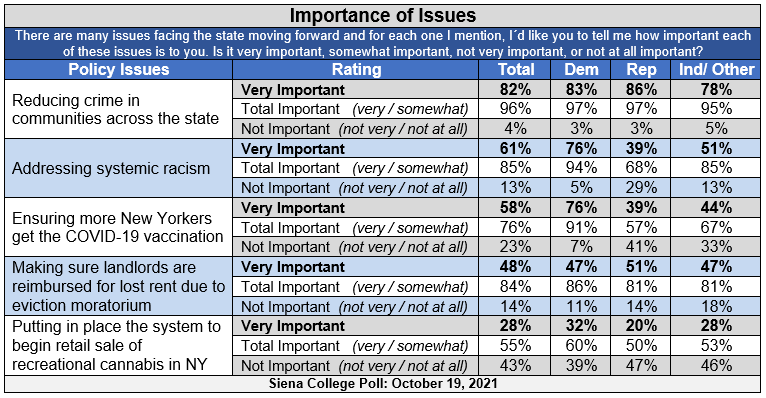 "While it may not be surprising that Republicans, Democrats and independents don't agree on the importance of addressing systemic racism or ensuring more New Yorkers get vaccinated, it should be noted that when it comes to the importance of reducing crime and reimbursing landlords for lost rent, there is virtually no difference of opinion among Democrats, Republicans and independents," Greenberg said.
Odds & Ends
Former President Donald Trump has long been the pol with the lowest favorability rating among New York voters. No more. Trump has a 37-59 percent favorability rating, net 22 points negative. Cuomo is 33-60 percent, net 27 points negative. And de Blasio is 25-56 percent, net 31 points negative.
In July 2012, 63 percent of New Yorkers – including 71 percent of Democrats, 58 percent of independent and 52 percent of Republicans – had a favorable view of the United States Supreme Court. Today, only 51 percent have a favorable view of the Court. While nearly two-thirds of Republicans (65 percent) view the Court favorably, only pluralities of 47 percent of Democrats and 46 percent of independents do so.
President Joe Biden has a 51-44 percent favorability rating, down from 57-37 percent last month and 63-34 percent in June. His job performance rating is 40-58 percent, down from last month's 46-52 percent and June's 52-46 percent.
New York's best days are ahead of us, not behind us, voters still say. Currently, voters say New York's best days lie ahead 50-26 percent, down a little from 57-26 percent last month.
This Siena College Poll was conducted October 10-14, 2021 among 801 New York State registered voters with 501 voters contacted through a dual frame (landline and cell phone) mode and 300 responses drawn from a proprietary online panel (Lucid) of New Yorkers. Telephone calls were conducted in English and respondent sampling was initiated by asking for the youngest person in the household. Telephone sampling was conducted via a stratified dual frame probability sample of landline (ASDE) and cell phone (Dynata) telephone numbers within New York State weighted to reflect known population patterns. Data from both collection modes (phone and web) was merged and statistically adjusted by age, party by region, race/ethnicity, education, and gender to ensure representativeness. It has an overall margin of error of +/- 4.1 percentage points including the design effects resulting from weighting. There were 419 Democrats, with a margin of error of +/- 5.4 percentage points including the design effect resulting from weighting. The Siena College Research Institute, directed by Donald Levy, Ph.D., conducts political, economic, social, and cultural research primarily in NYS. SCRI, an independent, non-partisan research institute, subscribes to the American Association of Public Opinion Research Code of Professional Ethics and Practices. For more information, call Steve Greenberg at (518) 469-9858. For survey crosstabs: www.Siena.edu/SCRI/SNY.