By 2-to-1, NYers Oppose Requirement to Turn In Old License Plates for New Ones; Three-Quarters Say $25 Fee is Unfair
Strong Support to Consolidate Presidential & Other Primaries in April
Cuomo's Ratings with Voters Improve; Trump's Ratings Take a Hit
NY Dems Favor Biden (22%), Warren (17%) & Sanders (15%); 1/3 Still Unsure
Loudonville, NY. By a 60-31 percent margin, New Yorkers oppose the recently announced requirement that motorists must turn in license plates that are more than 10-years-old and replace them with new plates. An even larger majority, 75-23 percent, think the $25 license replacement fee is unfair, according to today's new Siena College Poll of registered New York State voters. Ten percent of New Yorkers say they voted in the recent online poll to select a new license plate design, and another third say they were aware of the poll but didn't vote.
At least 63 percent of Democrats, Republicans and independents support consolidating all primaries next year on one day in April, rather than the currently scheduled April presidential primary and June congressional, state and local primaries. Governor Andrew Cuomo's favorability and job performance ratings improved from all-time lows last month and his favorability rating is now back in positive territory. President Donald Trump's favorability rating fell to its lowest level since January, and only 28 percent of voters are prepared to re-elect him.
"New Yorkers of every stripe – regardless of party, region, gender, race, or age – oppose the new requirement to surrender license plates that are at least a decade old for newly designed state license plates. Opposition is smaller with Democrats, New York City voters, and black, Latino and younger voters, however, a majority or plurality of each of those groups oppose this new requirement on motorists," said Siena College pollster Steven Greenberg.
"When it comes to the $25 license replacement fee, New Yorkers are even more united in their opposition. At least two-thirds of voters from every party, region, gender, race, or age group say the $25 license replacement fee is unfair. Bottom line message from voters to state: NO2PL8FEE," Greenberg said. "Surprisingly, 40 percent of New Yorkers say they were aware of the late summer online poll to select the new license plate design, and 10 percent say they voted online to choose the new design."
New Yorkers Prefer One Primary Day in 2020, Rather than Two, as Currently Scheduled
In 2016, New York had three primary days – presidential in April, congressional in June, and state and local primaries in September. Since then, the Governor and Legislature combined the congressional, state and local primaries into one June primary date. Next year, New York is currently scheduled to have two primaries – the presidential primary on April 28 and congressional, state and local primaries on June 23.
"Governor Cuomo – who has proposed consolidating New York's two 2020 primary days into one April primary for all offices – has found an issue that has broad bipartisan support. At least 60 percent of Democrats, Republican, independents, upstaters, and downstaters support holding one primary in April for all offices, rather than the presidential primary in April and other primaries in June," Greenberg said. "Interestingly, while more than two-thirds of white voters and voters 55 and older support consolidating the primaries, voters under 35 are only slightly in support of consolidation, while black voters are evenly divided."
New York Democrats Favor Biden, Warren & Sanders; Biden Seen as Having Best Chance to Win
Asked which candidate they want to see be their party's nominee for president, 22 percent of Democrats say they are supporting former Vice President Joe Biden, closely followed by Sen. Elizabeth Warren (17 percent) and Sen. Bernie Sanders (15 percent). Sen. Kamala Harris has the support of four percent, followed by Mayor Pete Buttigieg with three percent. No other candidate tops one percent. When asked who has the best chance to win in 2020, 37 percent say Biden, with Warren (13 percent) and Sanders (11 percent) trailing far behind.
"Although Biden, Warren and Sanders are leading the pack among New York Democrats, more than one-third of those Democrats – more than support frontrunner Joe Biden – are still undecided," Greenberg said. "We're still more than four months until Iowa and New Hampshire Democrats vote, and seven months until New York Democrats weigh in on the Democratic presidential nomination.
"The national frontrunners are leading with New York Democrats as well. Biden leads with men and women, in New York City and upstate, with white and black voters, and with voters 35 and older. Warren leads with the downstate suburbs and Latino voters, while Sanders is the strong choice of voters under 35," Greenberg said.
Cuomo Poll Bounce; Favorability Barely Back in Positive Territory; Job Performance Still Under Water
Cuomo has a 48-46 percent favorability rating, up from negative 43-50 percent in August. His job performance rating is 38-59 percent, up from 34-64 percent last month.
"Cuomo's favorability rating bounced back into positive territory, albeit by two points. He saw the most gain with independents, among whom he's now evenly divided, and upstate voters, with whom he's now under water by
16 points, a significant improvement from 33 points last month," Greenberg said. "And by 49-35 percent (little changed from last month), voters say Cuomo has made New York better in the last nine years as governor."
Trump Favorability Falls to Lowest Since January; Re-elect = 28%, Two-Thirds Prefer 'Someone Else'
Trump has a negative 32-64 percent favorability rating, down from 35-62 percent in August. His job performance rating is 28-72 percent, down significantly from 34-66 percent last month. While 28 percent of voters are prepared to re-elect Trump, 66 percent would prefer 'someone else.'
"Trump, with a two-to-one negative favorability rating, has hit his lowest favorability rating since January. His job performance rating, with nearly three-quarters of New Yorkers giving him negative reviews, is the worst it's been this year," Greenberg said. "The President continues to enjoy strong support from Republicans but that's it. While two-thirds of Republicans are prepared to re-elect Trump, 87 percent of Democrats and 61 percent of independents would prefer 'someone else.' "
New Yorkers Say Opioid Crisis Continues to Get Worse Across the State & In their Community
In the state, 64 percent of voters say the opioid crisis has worsened, compared to four percent who say it's improved and 23 percent who say it's stayed about the same. In their community, 43 percent say worse, seven percent improved and 38 percent the same.
"Across the country and state, elected officials and politicians have been bemoaning and battling the opioid crisis for years, with several measures to address it being enacted into law. Despite those efforts, a plurality of New Yorkers says the opioid crisis in their community has worsened and nearly two-thirds say it has gotten worse statewide," Greenberg said. "Democrats and New York City voters are not quite as pessimistic, but there is no group of New Yorkers who think the crisis has improved, either statewide or in their community."
Odds & Ends
By a 50-39 percent margin (up slightly from 48-41 percent in March), voters want to keep fusion voting.
Opposition to the new law allowing undocumented immigrants to obtain a New York driver's license has narrowed. It is now opposed 50-45 percent, down from 53-43 percent opposition last month.
Support continues, down a little, for legalizing recreational use of marijuana in New York. It is now supported 52-43 percent, down from 55-40 percent in June. In more than two years of polling, support has always been between 52 and 56 percent, and opposition has always been between 40 and 44 percent.
NYS right track/wrong direction is 47-40 percent, up from 45-44 percent last month, its best showing since January. US right track/wrong direction is 33-59 percent, down from 37-53 percent in August.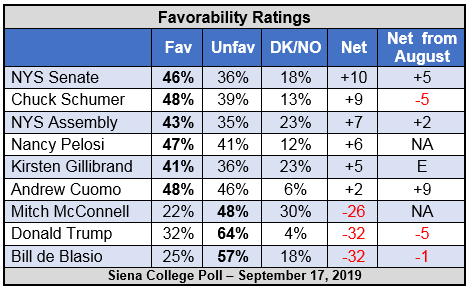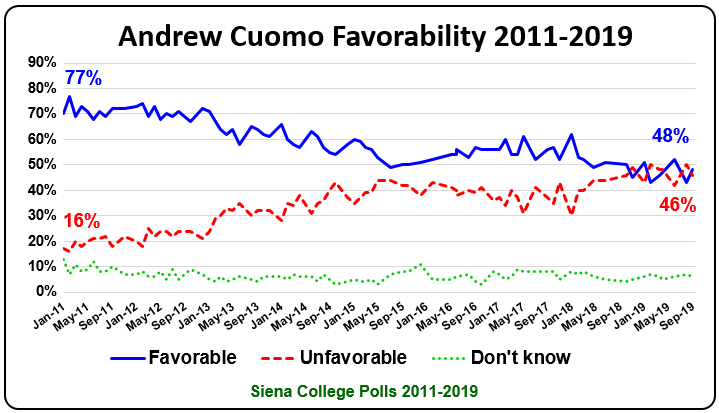 This Siena College Poll was conducted September 8-12, 2019 by telephone calls conducted in English to 798 New York State registered voters. Respondent sampling was initiated by asking for the youngest male in the household. It has an overall margin of error of +/- 4.1 percentage points (+/- 6.1 percentage points for 359 Democrats) including the design effects resulting from weighting. Sampling was conducted via a stratified dual frame probability sample of landline (ASDE) and cell phone (Dynata) telephone numbers from within New York State. Data was statistically adjusted by age, party by region, and gender to ensure representativeness. The Siena College Research Institute, directed by Donald Levy, Ph.D., conducts political, economic, social and cultural research primarily in NYS. SCRI, an independent, non-partisan research institute, subscribes to the American Association of Public Opinion Research Code of Professional Ethics and Practices. For more information, call Steve Greenberg at (518) 469-9858. For survey crosstabs: www.Siena.edu/SCRI/SNY.