Voters on End of Session Agenda: 'Yes' on Marijuana (55-40%); 'No' on Licenses for Undocumented (41-53%); Overwhelming Support for Vaccinations (84-13%) & NYS ERA (72-17%)

Cuomo Favorability Up to 52-42%, His Best Since March 2018; By 58-37%, Voters Say Cuomo Should Not Seek Fourth Term

Among NY Candidates: Gillibrand Crushes de Blasio with Democrats; Gillibrand Leads Trump by 24 Points; de Blasio Leads Trump by 12 Points
Loudonville, NY. As the Legislature rushes to complete its 2019 legislative session, voters are supportive of legalizing the recreational use of marijuana, 55-40 percent (up a little from 52-42 percent in April), strongly supportive of eliminating the religious exemption for vaccinating children, 84-13 percent (up from 78-17 percent in April) and strongly supportive of adding an Equal Rights Amendment to the State Constitution, 72-17 percent. Voters continue to oppose allowing undocumented immigrants to get a driver's license, 53-41 percent (little changed from 55-40 percent opposition in April).
Governor Andrew Cuomo has a 52-42 percent favorability rating (up from 47-48 percent in April), his best rating since March 2018. By a 58-37 percent margin, voters say Cuomo should not run for a fourth term. Among New York presidential candidates, Senator Kirsten Gillibrand is on top. She beats New York City Mayor Bill de Blasio among Democrats 56-25 percent. She leads President Donald Trump 58-34 percent among all voters, while de Blasio bests Trump by a narrower 48-36 percent.
"New Yorkers overwhelmingly support legislation requiring parents to vaccinate their children regardless of religious beliefs. More than three-quarters of voters from every party and region support it," said Siena College pollster Steven Greenberg. "There is also overwhelming support for amending the State Constitution to add an Equal Rights Amendment. Republicans support the state ERA 56-30 percent, while independents support it 70-17 percent and Democrats approve 82-11 percent. At least 70 percent of voters from every region support it.
"There continues to be support for legalizing the recreational use of marijuana. It has strong support from Democrats and independents, while Republicans oppose it, albeit narrowly, 53-40 percent," Greenberg said. "Voters under 35 support it 75-23 percent, while voters 55 and older oppose it 54-42 percent."

"A majority of New Yorkers continues to oppose allowing undocumented immigrants to get New York State drivers' licenses. Licenses for undocumented immigrants is supported by Democrats as well as black, Latino and younger voters, however, it is overwhelmingly opposed by Republicans. Upstate and downstate suburban voters, white voters and voters 55 and older oppose it, while New York City voters are evenly divided," Greenberg said.
Cuomo Favorability Bounces Up to Highest Level in More than a Year; Voters Say 'No' to 4th Term
"Voters give Cuomo his best favorability rating in more than a year. He's viewed favorably by two-thirds of Democrats and New York City voters. He is close to break-even with independents and downstate suburbanites, and he remains significantly underwater with upstate voters and deep underwater with Republicans," Greenberg said. "Men are evenly divided, while 56 percent of women view him favorably.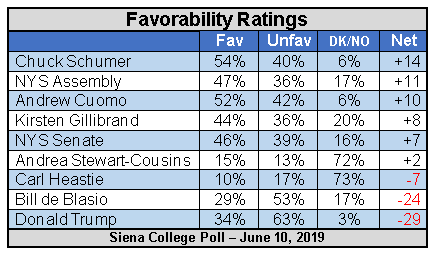 "Cuomo recently said, 'I plan to run for a fourth term.' Less than a year into his third term, voters don't think that's the best idea. Democrats and New York City voters are closely divided on the subject of a fourth Cuomo run, however, two-thirds of independents, downstate suburbanites and upstaters think he should not run, as do 80 percent of Republicans," Greenberg said.
Among the Three NYers Running for President, Gillibrand Does Best – with Democrats and All Voters
Gillibrand has a 44-36 percent favorability rating, up a tick from 41-35 percent in April. De Blasio has a negative 29-53 percent favorability rating, down from 33-50 percent in April and his worst favorability rating ever. Trump has a negative 34-63 percent favorability rating, down from 38-59 percent in April.
"New York Democrats strongly prefer the hometown senator over the hometown mayor. Gillibrand would easily best de Blasio in every region of the state, including New York City, where she beats him 56-29 percent. Liberals prefer Gillibrand 69-18 percent. De Blasio has a narrow three-point edge with black voters and only trails by
eight points with younger voters, however, older voters favor Gillibrand by more than 40 points and white voters favor her by 50 points," Greenberg said. "Among only Democrats, Gillibrand has a 55-22 percent favorability rating, while de Blasio has a negative 39-45 percent favorability rating. In New York City, Gillibrand's favorability rating is 45-30 percent, while de Blasio's is a negative 39-52 percent.
"Blue New York shows no interest in supporting the incumbent Republican President for re-election. Currently, only 29 percent of voters say they are prepared to re-elect Trump, while 68 percent say they prefer 'someone else.' In hypothetical matchups, Gillibrand leads Trump by 24 points and de Blasio leads Trump by 12 points, although he doesn't hit 50 percent," Greenberg said.
"Trump runs close to de Blasio upstate and in the downstate suburbs, although he trails Gillibrand by double digits in both regions. While Gillibrand leads Trump with voters 55 and older by 18 points, de Blasio only leads among those voters by five points. Men support Gillibrand by five points but favor Trump over de Blasio by six points," Greenberg said.
# # #
This Siena College Poll was conducted June 2-6, 2019 by telephone calls conducted in English to 812 New York State registered voters. Respondent sampling was initiated by asking for the youngest male in the household. It has an overall margin of error of +/- 4.1 percentage points including the design effects resulting from weighting. Sampling was conducted via a stratified dual frame probability sample of landline and cell phone telephone numbers (both from ASDE) from within New York State. Data was statistically adjusted by age, party by region, and gender to ensure representativeness. The Siena College Research Institute, directed by Donald Levy, Ph.D., conducts political, economic, social and cultural research primarily in NYS. SCRI, an independent, non-partisan research institute, subscribes to the American Association of Public Opinion Research Code of Professional Ethics and Practices. For more information, call Steve Greenberg at (518) 469-9858. For survey crosstabs: www.Siena.edu/SCRI/SNY.