2/3 of Voters Say Amazon Cancelling Queens HQ Bad for NY; 2-to-1 Support for Deal if Amazon Reconsiders

Huge Support: Requiring Parents to Have Children Vaccinated; Strong Support: Property Tax Cap; Support: Eliminating Monetary Bail & Legalizing Pot; Strong Opposition: Driver's Licenses for Undocumented Immigrants

Cuomo & Legislature Favorability Up a Little; NYS Under Democratic Control: Getting Harder for Businesses, Moving Too Far Left & Upstate Being Ignored
Loudonville, NY. By a 67-21 percent margin, New Yorkers say that Amazon cancelling its planned second headquarters in Queens was bad for New York. By as nearly as large a margin, 61-30 percent, they support the deal in which Amazon would receive up to $3 billion in state and city incentives and create up to 25,000 jobs if Amazon reconsiders, according to a new Siena College poll of New York State registered voters released today.
An overwhelming 79 percent of voters say parents should be required to have their children vaccinated before attending school, regardless of the parents' religious beliefs. Voters continue to support making the two-percent property tax cap permanent, legalizing recreational use of marijuana, and eliminating monetary bail for misdemeanors and non-violent felonies. They are split on congestion pricing, and by a nearly two-to-one margin, they oppose allowing undocumented immigrants to get a New York driver's license.
"At least 63 percent of Democrats, Republicans and independents, upstaters and downstaters, men and women, young and old, black and white New Yorkers agree: Amazon pulling out of Queens was bad for New York. Even 56 percent of self-described liberals think it was bad for New York," said Siena College pollster Steven Greenberg. "While some may have celebrated Amazon's announcement to pull the plug, the vast majority of New Yorkers of every stripe thought it was bad for the Empire State.
"Who do New Yorkers blame? Well, there's certainly blame enough to go around. More people think that Amazon, Governor Cuomo, Mayor de Blasio, the State Senate, and local Queens activists were villains in this saga than they were heroes. However, voters say the biggest villain was Representative Alexandria Ocasio-Cortez. Only 12 percent call her hero, while 38 percent label her a villain," Greenberg said. "Amazon itself was seen as the biggest villain among Democrats, but Republicans and independents had Ocasio-Cortez as far and away the largest villain, followed by the local Queens activists."
"By a wide margin, New Yorkers would support the deal coming back together if Cuomo and others can convince Amazon to reconsider," Greenberg said. "The Amazon deal was seen as very contentious, however, there was strong support for it last month, before it got cancelled. There is an overwhelming feeling that its cancellation was bad for the state. And there is strong support – among all demographic groups – for Amazon to reconsider and move forward. Clearly, jobs outweigh the cost of government incentives in the minds of most voters."
Thumbs Up: Vaccinations, Property Tax Cap, Pot, Bail; Thumbs Down: Licenses for 'Undocumenteds'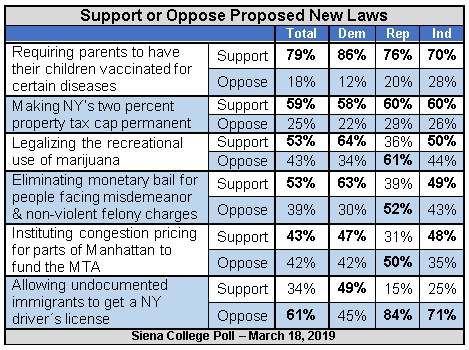 "Four out of five voters say that parents – regardless of their religious beliefs – should be required to have their children vaccinated for measles and other diseases before they can attend school. The 'weakest' support is among independents, who support it 70-28 percent," Greenberg said.
"Making permanent the property tax cap has strong support from every party and every region," Greenberg said. "Eliminating monetary bail and legalizing recreational marijuana are both strongly supported by Democrats, opposed by Republicans and receive tepid independent support. Congestion pricing, which was strongly supported in January, is now break-even.
"Overwhelmingly, Republicans and independents, upstaters and downstate suburbanites oppose allowing undocumented immigrants to get driver's licenses. Democrats and New York City voters are closely divided on the issue," Greenberg said. "White voters strongly oppose; black and Latino voters support it by small margins."
Cuomo, Legislature, Schumer All See Favorability Bounce Up a Little from Last Month
Cuomo has a negative 46-48 percent favorability rating, up a little from negative 43-50 percent in February. The Assembly has a 44-35 percent favorability rating, up a little from 43-38 percent last month. The Senate is 46-38 percent, up a little from 43-41 percent. Senator Chuck Schumer is
51-41 percent, up from 47-46 percent.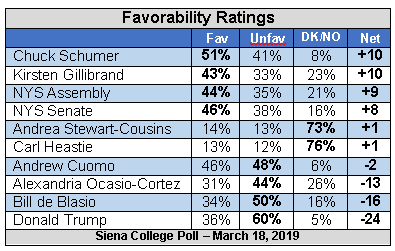 "Cuomo saw his favorability rating tick up to near break-even, up from the lowest favorability rating he ever had. His job performance rating, negative 38-61 percent, also moved up a little, although it remains significantly below water," Greenberg said. "Both houses of the Legislature also saw small jumps in their favorability ratings and both are in positive territory by high single digits.
"Schumer's favorability rating moved back into positive territory after being break-even last month. Senator Kirsten Gillibrand's favorability rating is unchanged from last month, and nearly one-quarter of voters do not know enough about her – despite her presidential campaign – to have an opinion," Greenberg said. "Ocasio-Cortez, with a negative 31-44 percent favorability rating, is as well known to statewide voters after three months in office as Gillibrand is after ten years as senator. While Democrats view Ocasio-Cortez favorably, independents view her unfavorably more than two-to-one and Republicans view her unfavorably, 68-6 percent. She is viewed slightly favorably in New York City but strongly unfavorably upstate and in the downstate suburbs."
Dems in Control: Moving Too Far to the Left; Making it Harder for Businesses; Ignoring Upstate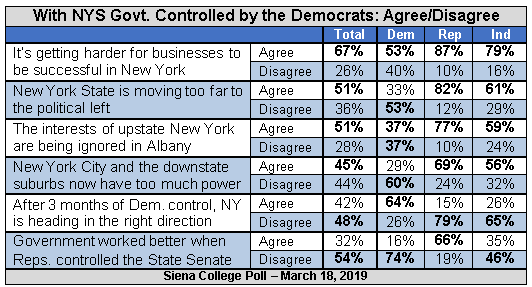 "While Democrats disagree, a strong majority of independents and an overwhelming majority of Republicans say that Democratic control of the Governor's mansion and both houses of the Legislature are moving the state too far to the left," Greenberg said. "Two-thirds of voters – including a majority of Democrats – say that Democratic control of the state makes it harder for businesses to be successful.
"While voters are evenly divided on whether downstate has too much power, by 51-28 percent voters say the interests of upstate are being ignored. Not surprisingly, nearly three-quarters of upstaters believe this, but New York City voters are closely divided," Greenberg said. "That said, a clear majority, 54-32 percent, disagree with the view that state government worked better when Republicans controlled the State Senate."
# # #
This Siena College Poll was conducted March 10-14, 2019 by telephone calls conducted in English to 700 New York State registered voters. Respondent sampling was initiated by asking for the youngest male in the household. It has an overall margin of error of +/- 4.2 percentage points including the design effects resulting from weighting. Sampling was conducted via a stratified dual frame probability sample of landline and cell phone telephone numbers (both from Survey Sampling International) from within New York State. Data was statistically adjusted by age, party by region, and gender to ensure representativeness. The Siena College Research Institute, directed by Donald Levy, Ph.D., conducts political, economic, social and cultural research primarily in NYS. SCRI, an independent, non-partisan research institute, subscribes to the American Association of Public Opinion Research Code of Professional Ethics and Practices. For more information, call Steve Greenberg at (518) 469-9858. For survey cross-tabs: www.Siena.edu/SCRI/SNY.