The New York Times / Siena College Battleground Poll
Biden Leads Trump on Honesty, Personality/Temperament and Policies
Biden Viewed Favorably 55-41%; Trump Viewed Unfavorably 54-44%
Loudonville, NY. In the key battleground state of Pennsylvania, which President Donald Trump carried in 2016 by less than 50,000 votes and less than one percentage point, former Vice President Joe Biden leads Trump 49-40 percent, according to The New York Times/Siena College polls of likely Pennsylvania voters released today. Biden is viewed favorably 55-41 percent and Trump is viewed unfavorably 54-44 percent.

"With five weeks until Election Day, Biden has opened a nine-point lead over Trump. While Trump has the support of 85 percent of Republicans, Biden is backed by 92 percent of Democrats and has a 10-point lead with independents. Biden leads among women by 26 points, more than offsetting Trump's eight-point lead with men," said Don Levy, Director of the Siena College Research Institute.
"Biden has a commanding 73-18 percent lead with non-white voters. And while white voters are evenly divided, Trump leads among those without a college degree by 13 points and Biden leads among whites with a college degree by 26 points," Levy said. "Biden is routing Trump in Philadelphia and winning big
in the Philly suburbs and Allegheny County. Trump has an overwhelming lead in the central portion of the state and small leads in the northeast and western portions of the state."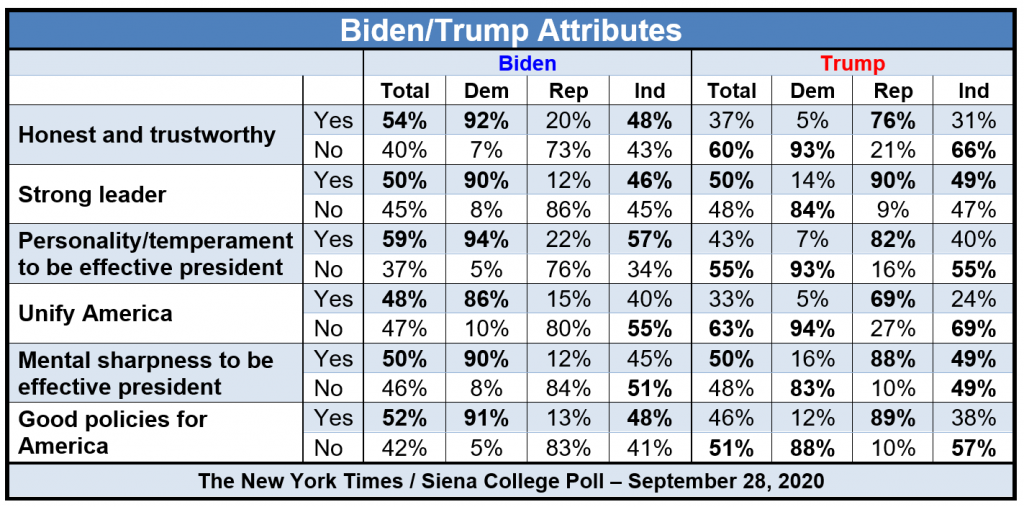 "On four attributes – honesty, having the personality and temperament to be an effective president, the ability to unify the nation, and having good policies for America – Biden scores better with Pennsylvania voters than Trump by wide margins," Levy said. "On being a strong leader and having the mental sharpness to be an effective president, voters give each candidate a slightly better than break-even rating. On none of these attributes do more than 10 percent of Democrats think Biden is lacking. However, 21 percent of Republicans think Trump is not honest and 27 percent don't think he can unify America."
"The Keystone State gave its Electoral College votes to Trump in 2016 – the first time the state had gone Republican in a presidential race since supporting George H.W. Bush in 1988. However, Trump has his work cut out if he wants to be able to put Pennsylvania in the win column this year," Levy said. "With just over a month to go – two-thirds of Pennsylvanians say they intend to vote in person on election day – Biden is viewed more favorably, seen as more honest and as having better policies for the country. Closing a nine-point gap in that environment presents a challenging mountain for the Trump campaign to climb."
This New York Times/Siena College survey of Pennsylvania was conducted September 25-27, 2020 by telephone calls in English and Spanish to 711 likely voters, with a margin of error of +/- 4.3 percentage points. Calls were made to a stratified weighted sample of voters from the L-2 Voter list via both land and cell phones. The data was weighted by party, age, race/ethnicity, education, region, gender and voter likelihood, a computed score that combines voter history, stated voter likelihood and modeled turnout by respondent. Polling support for this project provided by Institute for Policy and Opinion Research at Roanoke College, M. Davis and Co., Reconnaissance Market Research, and The Public Opinion Research Lab at the University of North Florida. The Siena College Research Institute, directed by Donald Levy, Ph.D., conducts political, economic, social, and cultural research. SCRI, an independent, non-partisan research institute, subscribes to the American Association of Public Opinion Research Code of Professional Ethics and Practices. For more information, please call Don Levy at 518-944-0482. Survey cross-tabulations and frequencies can be found at: www.Siena.edu/SCRI/SNY. For additional methodological information, click here.