By 2-to-1, Voters Say Moving Too Quickly to Loosen Stay-at-Home Orders is Bigger Danger than Moving Too Slowly
75% of NYers Think We Will Face Another Large COVID-19 Outbreak in the Fall; Yet, 64% of New Yorkers Think it Likely School Will Open in September
While 38% Say Legislature Should Resume Session, 55% Say There Will Be Time for Legislature to Reconvene After Crisis Has Subsided
Cuomo Ratings Fall from Record Highs but Remain Strong; Small Plurality Gives Cuomo Negative Rating on Addressing Needs of Nursing Homes
Loudonville, NY. By a margin of 65-32 percent, voters say moving too quickly to loosen stay-at-home orders – spreading the virus faster, resulting in more lives being lost – is a bigger danger than moving too slowly to loosen those orders – resulting in a worse economic impact and more jobs being lost – according to a new Siena College Poll of registered New York State voters released today.
Looking to the fall, 64 percent think it is at least somewhat likely that schools will reopen in September, and 75 percent say it is at least somewhat likely we will face another large outbreak of COVID-19. Fifty-five percent say there will be time for the Legislature to get back to business after the crisis has subsided, while 38 percent say the Legislature should resume session and start passing laws to help New Yorkers in the midst of the crisis.
"New Yorkers, including 79 percent of Democrats, 50 percent of Republicans and 54 percent of independents, see a bigger danger for the state in moving too quickly to reopen rather than in moving too slowly. Three-quarters of New York City voters are concerned about moving too quickly to end the stay-at-home orders, as are nearly 60 percent of upstaters and downstate suburbanites," said Siena College pollster Steven Greenberg.
"Forty-four percent of black voters and 27 percent of white voters live in a household where at least one person has been laid off, yet 84 percent of black voters are more concerned about opening too quickly, compared to 59 percent of white voters," Greenberg said. "Clearly, the devastating health consequences of the pandemic are of greater concern to New Yorkers than the devastating economic impacts. Only self-identified conservatives, by a margin of 50-45 percent, say the bigger danger for the state is in moving too slowly to reopen."
"Asked to look into their crystal balls, voters are closely divided on whether they think large family gatherings without social distancing will be able to happen by July. Nearly two-thirds believe it likely that schools will reopen in September," Greenberg said. "At the same time, three-quarters of voters – 82 percent of Democrats, 76 percent of independents and 63 percent of Republicans – think another large COVID-19 outbreak is likely this fall. At least 73 percent of voters from every region think another outbreak is likely. And 84 percent say it's likely that those who can effectively work from home will be working from home for most of the rest of the year."
Majority of Voters Not Clamoring for Legislature to Return to Session
"Democrats overwhelmingly say, 69-25 percent, that the Governor is appropriately using the emergency powers given to him by the Legislature and will have time to get back to business when the crisis subsides. However, a majority of Republicans, 55 percent, and a plurality of independents, 49 percent, say the Governor should not be acting unilaterally and the Legislature should resume session to pass laws to help New Yorkers," Greenberg said. "New York City voters strongly say the Legislature will have time to get back to business after the crisis, and by smaller majorities, downstate suburbanites and upstaters agree."
Cuomo Ratings Strong but Down from Record Highs; Plurality Disapprove His Handling of Nursing Homes
Governor Andrew Cuomo has a 66-30 percent favorability rating, down from a record high 77-21 percent last month. His job performance rating is 63-36 percent, down from a record 71-28 percent. And voters approve his overall handling of the pandemic 76-21 percent, down from 84-15 percent in April.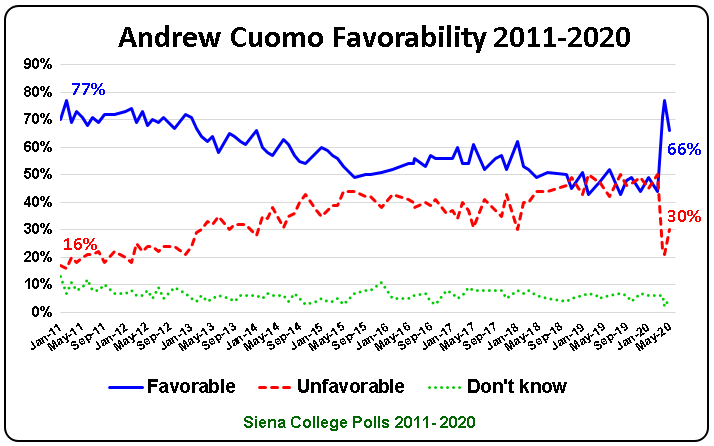 "Cuomo's stratospheric ratings from New Yorkers in April have fallen from their record highs but remain very strong as two-thirds of voters still view him favorably, nearly two-thirds give him a positive job performance rating and more than three-quarters still approve of the job he's doing to address the pandemic," Greenberg said. "While Republicans still approve of his handling of the pandemic 56-39 percent, small majorities of Republicans view him unfavorably and give him a negative job performance rating."

"When it comes to specific aspects of his handling of the coronavirus pandemic, voters give Cuomo high marks for communicating with New Yorkers, 81-18 percent, implementing the right plans for reopening New York, 64-34 percent, and ensuring those entitled are receiving unemployment benefits, 59-32 percent," Greenberg said. "However, when it comes to addressing the needs of nursing homes, only 44 percent give him positive marks, compared to a plurality, 48 percent, who rate him negatively. While Democrats view his handling of nursing homes positively, 54-39 percent, 55 percent of Republicans and 61 percent of independents give him a negative grade. Voters 55 and older are closely divided, with 49 percent grading him positively and 46 percent negatively."
Overwhelming Support for Wearing Masks; Vast Majority Wear One; Most See People Who Don't
By an 89-9 percent margin, voters support the Governor's order requiring face masks to be worn in public when social distancing cannot be maintained, little changed from 92-8 percent last month. Ninety-four percent say they wear a mask in public when social distancing cannot be maintained always (79 percent) or most of the time (15 percent). Yet, 71 percent say in the last week they have seen someone not wearing a mask who should be.
"Support for wearing masks in public is above 90 percent with Democrats and downstaters and at least 82 percent with Republicans, independents and upstaters," Greenberg said. "While fewer than 10 percent of voters from every party and region say they never or only sometimes wear a face mask in public, more than two-thirds of voters say they've encountered someone in the last week not wearing a mask when they should have been."
Odds & Ends
Fifty-seven percent of voters know someone who has tested positive for coronavirus, including more than two-thirds of downstaters, up from 51 percent last month.
Thirty-seven percent know someone who has died from COVID-19, including nearly half of downstaters, compared to 32 percent last month who knew someone who had died.
While New York voters continue to give Joe Biden a solid lead over Donald Trump in the race for President, 57-32 percent, that's down significantly from Biden's 65-29 percent lead in April.
Voters still say New York is on the right track and not heading in the wrong direction 56-34 percent, down from 65-28 percent in April. New Yorkers are still negative about the direction of the country, 35-56 percent, up a little from 34-60 percent last month.
This Siena College Poll was conducted May 17-21, 2020 among 796 New York State registered voters with 493 voters contacted through a dual frame (landline and cell phone) mode and 303 responses drawn from a proprietary online panel (Lucid) of New Yorkers. Telephone calls were conducted in English and respondent sampling was initiated by asking for the youngest person in the household. Telephone sampling was conducted via a stratified dual frame probability sample of landline (ASDE) and cell phone (Dynata) telephone numbers within New York State weighted to reflect known population patterns. Data from both collection modes (phone and web) was merged and statistically adjusted by age, party by region, race/ethnicity, and gender to ensure representativeness. It has an overall margin of error of +/- 3.7 percentage points including the design effects resulting from weighting. The Siena College Research Institute, directed by Donald Levy, Ph.D., conducts political, economic, social, and cultural research primarily in NYS. SCRI, an independent, non-partisan research institute, subscribes to the American Association of Public Opinion Research Code of Professional Ethics and Practices. For more information, call Steve Greenberg at (518) 469-9858. For survey crosstabs: www.Siena.edu/SCRI/SNY.