Coronavirus Pandemic Pushes Cuomo to Record High Ratings; Voters Trust Cuomo over Trump on NY Reopening 78-16%
Half of NYers Know Someone Who's Tested Positive; One-Third Know Someone Who's Died from Coronavirus; Both Numbers Higher Downstate than Upstate
Near Universal Support for Gov's Orders to Extend NY 'On Pause' & Require Masks
Half Say Someone in Household is Working from Home, Who Usually Doesn't; One-Third Say Someone in Household is Continuing to Work Outside the Home; 32% of New Yorkers Say Someone in Their Household Has Been Laid Off
Loudonville, NY. New Yorkers give Governor Andrew Cuomo record high job performance and favorability ratings. His favorability rating is 77-21 percent, up from 71-23 percent last month, matching his highest ever in February 2011. His job performance rating is 71-28 percent, up from 63-35 percent last month, his best ever. By a 78-16 percent margin, voters say they trust Cuomo over President Donald Trump to make a determination about opening New York, according to a new Siena College Poll of registered New York State voters released today.
Fifty-one percent of New Yorkers say they personally know someone who has tested positive for coronavirus and 32 percent, including nearly half of New York City voters, say they know someone who has died as a result of coronavirus. By a 92-8 percent margin, voters support the Governor's order requiring face masks or coverings in public and by 87-11 percent, they support his decision to extend New York 'On Pause' until May 15.
"Mired in middling poll numbers for the last two years, Cuomo is feeling the love from New Yorkers of all stripes in year three of his third term, and his first global pandemic. He is viewed favorably by 90 percent of Democrats, 73 percent of independents and 53 percent of Republicans, his first time favorable with Republicans in more than six years," said Siena College pollster Steven Greenberg. "His 71-28 percent job performance rating this month bests last month's all-time high, and is up strikingly from a negative 36-63 percent rating just two months ago.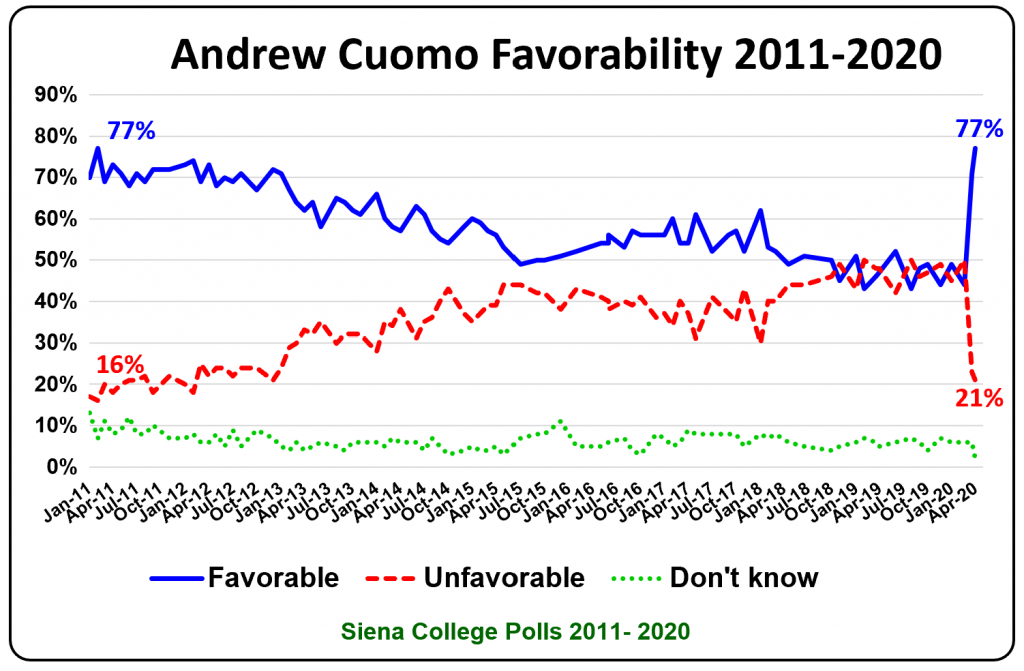 "When it comes to whom New Yorkers trust more to make decisions about reopening the state and its economy – the President or the Governor – it's not even close. Only 16 percent of voters – and only 36 percent of Republicans – trust Trump, compared to 78 percent of all voters – and 56 percent of Republicans – who trust Cuomo. Even self-identified conservatives trust Cuomo more, 57-34 percent," Greenberg said.
Half of New Yorkers Know Someone with Coronavirus & A Third Know Someone Who Has Died from It
"Last month, fewer than one-third of New Yorkers knew someone who had tested positive for coronavirus. Today, 51 percent personally know someone who has been infected with COVID-19, including 60 percent from New York City, 67 percent from the downstate suburbs and 30 percent from upstate," Greenberg said. "The human toll is almost unfathomable as 46 percent of New York City voters personally know someone who has died from coronavirus, as do 36 percent of downstate suburbanites and 13 percent of upstaters. Half of Latino and black voters know someone who has passed away from this insidious virus."
Support for Both the Governor's Orders on Masks & Extending NY 'On Pause' Is Overwhelming
"While you cannot find a single issue that would generate unanimous support from all 12 million New York voters, Cuomo's order that face masks or coverings must be worn in public – when social distancing cannot be maintained – comes as close as any issue Siena College has ever polled. It has support from at least 86 percent of voters from every party, region, gender, race, or religion," Greenberg said. "Similarly, the Governor's decision to extend New York 'On Pause' – keeping schools and non-essential businesses closed – through the middle of May is supported by at least 81 percent of voters from every party, region, gender, race, or religion."
One-Third of NY Households Include Someone Laid Off & Half Have Someone Working from Home
Fourteen percent of voters have been laid off, with another 13 percent having someone in their household laid off, and five percent who have been laid off in addition to someone else in their household. Forty-eight percent are working from home and/or have a household member working from home who normally works outside the home. Thirty-two percent of voters say they and/or someone they live with is continuing to work outside the home.
"To say the coronavirus has had a tremendously detrimental effect on New York's workforce – upstate and downstate – is a gross understatement. Nineteen percent of voters have themselves been laid off and another 13 percent say someone in their household has been laid off. While the layoffs have hit upstate and downstate nearly the same, 48 percent of Latino voters say that they and/or someone in their household has been laid off, compared to 30 percent of both white and black voters affected by layoffs," Greenberg said.
"More than half of downstate voters and 41 percent of upstaters live in a household with at least one person working from home who usually works outside the house. While 66 percent of people earning $100,000 or more annually have someone working from home who usually does not, only 26 percent of people earning less than $50,000 have someone newly working from home," Greenberg said. "About one-third of voters upstate and downstate have someone in their household continuing to work outside the house, including 43 percent of voters from union households, compared to 27 percent from non-union households."
Voters Agree on Need for Widespread Testing, Divided on Whether It's a Federal or State Responsibility
By a 69-26 percent margin, voters say New York cannot start to reopen without widespread coronavirus testing. When asked which level of government should have ultimate responsibility to ensure appropriate testing, voters split with 49 percent saying the Federal government, 41 percent state governments and seven percent both.
"About three-quarters of Democrats and independents and half of Republicans say widespread coronavirus testing is needed before New York can begin to reopen, a view held by at least 64 percent of voters from every region," Greenberg said. "While 55 percent of Democrats and 50 percent of independents say the Federal government has the ultimate responsibility to ensure adequate testing, 57 percent of Republicans say it's the job of the states."
Two-Thirds of NYers Think Large Public Gatherings Unlikely by Summer
Thirty-two percent of voters think it very (seven percent) or somewhat (25 percent) likely large public gatherings – like sporting events, concerts or graduations – will resume this summer, and 67 percent think it is
not very (40 percent) or not at all (27 percent) likely. Similarly, if such events were to resume this summer, 69 percent say it is not very (30 percent) or not at all (39 percent) likely they would attend, compared to
31 percent who say it is very (10 percent) or somewhat (21 percent) likely they would attend.
"New Yorkers are not optimistic that concerts, sporting events and other large public gatherings will resume by this summer. Republicans are a bit more optimistic but they are only evenly divided," Greenberg said. "And if large public gatherings do resume this summer, seven in ten New Yorkers – including 72 percent of downstaters, 62 percent of upstaters and 81 percent of those 55 and older – say it's unlikely they'd attend."
A Majority of NYers Now Say they Are Not Confident America "Will Be Back to Normal Anytime Soon"
"While 43 percent of voters think 'things will be back to normal sometime soon,' down from 53 percent last month, a majority, 56 percent say they're 'not confident America will be back to normal anytime soon,' up from 44 percent last month," Greenberg said. "Republicans are optimistic, 61-39 percent, while 55 percent of independents, 63 percent of Democrats and at least 53 percent of voters from every region are more pessimistic."
Biden Extends Lead Over Trump to 36 Points
Joe Biden leads Trump among New York voters, 65-29 percent, up from 58-33 percent in March. Trump has a 31-66 percent favorability rating, down from 35-59 percent last month. Biden has a 60-36 percent favorability rating, up from 51-40 percent last month.
"It going to take more than a global pandemic for New York to reverse a 36-year trend and vote Republican for President. Presumptive nominee Biden is supported by 88 percent of Democrats, 61 percent of independents and even 23 percent of Republicans, up from 13 percent last month," Greenberg said. "While 45 percent think Trump will win re-election, 48 percent do not think he will, up from 37 percent last month and 29 percent in February.
Odds and Ends
Cuomo (84 percent) and Dr. Anthony Fauci (81 percent) continue to garner extraordinarily high approval ratings for their handling of the coronavirus pandemic, as does 'your local government leader' outside of New York City (78 percent). Mayor Bill de Blasio has a 66 percent approval rating. Trump's handling of the pandemic fell to 34-65 percent, down from 41-56 percent approval last month. (See chart on next page.)
Thirty-six percent say they have received a check or direct deposit from the Federal government in response to the pandemic. Forty-three percent of upstaters and 42 percent of Republicans say they have received money from the Federal government, and one-third of downstaters, Democrats and independents say they have.
Currently, 34 percent (down from 43 percent last month) say the Federal government is doing all it can to protect the health of Americans, 64 percent (up from 53 percent) say it is not. Thirty-five percent say the Federal government is doing enough to meet the financial needs of average Americans, compared to 62 percent who say it's not.
New York State gets significantly higher grades, as 75 percent say it is doing all it can to protect the health of New Yorkers, compared to 24 percent who say it is not. Last month, it was 79-18 percent.
By a 52-37 percent margin, New Yorkers do not think prison inmates who are over 70 or have pre-existing conditions should be released from prison during the pandemic. Pluralities of Democrats and New York City voters think they should be. At least 60 percent of Republicans, independents, downstate suburbanites, and upstaters are opposed. Latinos are evenly divided and black voters support release 53-36 percent.
Favorability ratings for both the State Senate (58-31 percent, up from 46-39 percent in February) and the State Assembly (57-29 percent, up from 46-36 percent in February) hit all-time highs in a Siena College poll.
A new record high was also set for voters' view on the direction of the state, with 65 percent saying the state is on the right track, compared to only 28 percent who say the state is off on the wrong track, up from 56-27 percent last month. This has been the first question on every Siena College NYS poll since 2005.
At the same time, only 24 percent of New Yorkers think the state's fiscal condition is excellent or good, compared to 72 percent who say it's fair or poor. It was slightly better, 28-62 percent, in February.


This Siena College Poll was conducted April 19-23, 2020 among 803 New York State registered voters with 508 voters contacted through a dual frame (landline and cell phone) mode and 295 responses drawn from a proprietary online panel (Lucid) of New Yorkers. Telephone calls were conducted in English and respondent sampling was initiated by asking for the youngest person in the household. Telephone Sampling was conducted via a stratified dual frame probability sample of both landline and cell phone telephone numbers drawn from registered voters (L-2) from within New York State weighted to reflect known population patterns. Data from both collection modes (phone and web) was merged and statistically adjusted by age, party by region, race/ethnicity, and gender to ensure representativeness. It has an overall margin of error of +/- 3.7 percentage points including the design effects resulting from weighting. The Siena College Research Institute, directed by Donald Levy, Ph.D., conducts political, economic, social, and cultural research primarily in NYS. SCRI, an independent, non-partisan research institute, subscribes to the American Association of Public Opinion Research Code of Professional Ethics and Practices. For more information, call Steve Greenberg at (518) 469- 9858. For survey crosstabs: www.Siena.edu/SCRI/SNY.