Plurality of Voters Say, Overall, New State Budget Will Be Good for NY, 38-26%; Strong Majorities Say $1B for Mental Health, Minimum Wage Increase, Giving Judges More Discretion on Bail; $100M for Abortion Providers & Cracking Down on Unlicensed Cannabis Sellers Will All Be Good for NY
NYS Dems: Renominate Biden 56%, Other Candidate 40% (Up from 43-51%)
NYS Reps: Trump 60%, Someone Else 32%
SCOTUS Viewed Unfavorably, 37-52%; (45-41% in December; 63-30% in 2012)
Loudonville, NY. For the first time, more voters, 45%, view Governor Kathy Hochul unfavorably than view her favorably, 40%, down from 43-43% in March. Her job approval rating slid to 50-44% from 52-41% in March. A strong majority thinks Hochul is hard working, 58-20%, and a plurality of voters says Hochul is honest, 44-32%, and not corrupt, 47-26%. However, voters are evenly divided on whether Hochul is effective, 39-39%, or a strong leader, 40-40%, according to a Siena College poll of registered New York State voters released today.
A plurality of voters says that overall, the recently passed state budget will be good, rather than bad, for New York, 38-26%. A strong to overwhelming majority of voters think five specific proposals will be good for New York: increasing funding by $1 billion for mental health services, 80-9%, increasing the minimum wage, 64-24%, giving judges more discretion to set bail, 59-20%, allocating $100 million to support abortion providers, 59-27%, and authorizing the state to penalize/close unlicensed cannabis businesses, 58-26%. Voters are closely divided on new building electrification mandates and expanded film tax credits.
"Hochul's job performance rating remained modestly positive, 50-44%, and nearly matched its all time low of 49-44% in December," Greenberg said. "Since January, Hochul's favorability and job approval ratings have both dropped in each of the last three Siena polls. Job approval has fallen by 14 points and favorability by 11 points."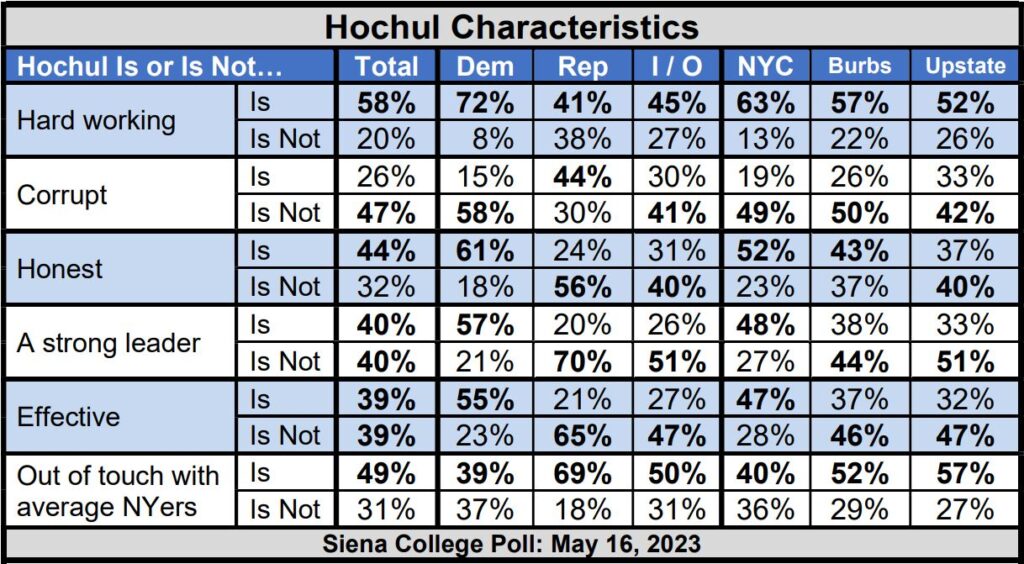 "By a three-to-one margin, including 72% of Democrats and pluralities of Republicans and independents, voters say Hochul is hard working. Strong majorities of Democrats and pluralities of independents say Hochul is both honest and not corrupt, while Republicans disagree. Democrats say Hochul is effective and a strong leader; Republicans and independents disagree," Greenberg said. "Nearly half of New Yorkers say Hochul is out of touch with average New Yorkers, including a narrow plurality of Democrats."
Voters Say Several Recently Passed Budget Proposals Will Be Good for New York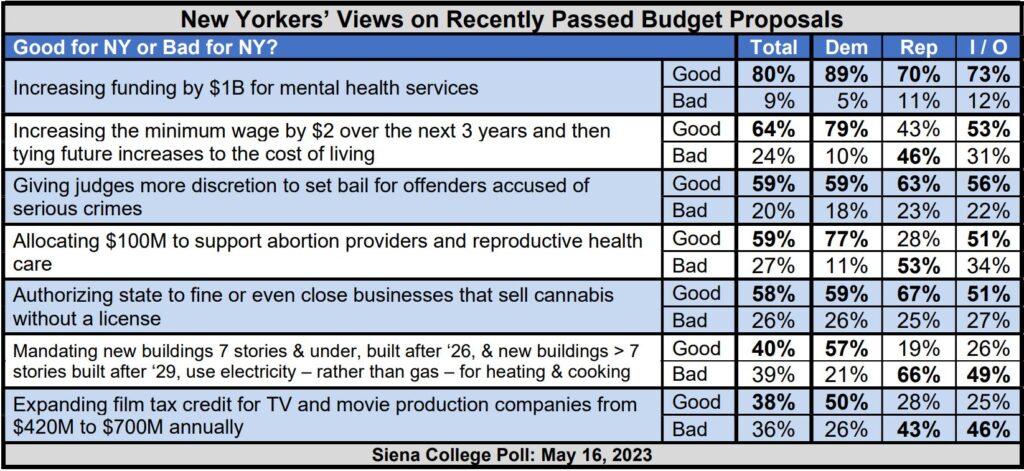 "Majorities of Democrats, Republicans and independents all agree that three proposals in the recently passed state budget will be good for New York: increasing funding for mental health services, giving judges more discretion on setting bail for serious crimes, and authorizing the state to crack down on unlicensed cannabis businesses," Greenberg said. "Majorities of Democrats and independents think the minimum wage increase and new funding for reproductive health care will also be good for the state. Only Democrats say the new building electrification mandates and expanded film tax credit will be good for New York. Overall, Democrats think the budget will be good for the state, Republicans think it will be bad for the state, and independents are more closely divided."
2024: 60% of NY Reps Want Trump as Nominee; 56% of NY Dems Now Want Biden (Up from 43%)
Sixty percent of Republicans would vote for Donald Trump in the 2024 presidential primary, compared to 32% who want someone else. In March, Trump had 52% support, compared to Ron DeSantis at 27% and someone else at 18%. Among Democrats, 56% say their party should renominate Joe Biden, while 40% want another candidate. In March, 43% supported Biden's renomination, compared to 51% who wanted someone else.
"Nearly a year from New York's presidential primary, Republicans – who view Trump favorably 67-27% – are solidly behind the former President, nearly two-to-one. Only among self-described moderate Republicans does 'other' beat Trump," Greenberg said. "Among the third of Republicans who said they wanted another candidate, 28% of them said DeSantis, 14% Mike Pence, 8% Nikki Haley, 6% Liz Cheney, and a scattering," Greenberg said.
"Biden, who saw a small uptick in his favorability, 51-45%, and job approval, 51-47%, ratings since March, rallied Democrats to his nascent re-election campaign since then," Greenberg said. "Two months ago, Democrats, by a margin of eight points, said they preferred a different nominee than Biden. Today, by a 16-point margin, Democrats say they want Biden as their standard bearer next year."
Majority Views US Supreme Court Unfavorably, Except Republicans; First Time Ever
"The US Supreme Court has a negative 37-52% favorability rating, down from 45-41% in December 2022 and its high, 63-30%, in July 2012. The Court is viewed favorably by 57% of Republicans and unfavorably by 65% of Democrats. Independents view the Court unfavorably, 40-49%," Greenberg said. "As recently as October 2021, SCOTUS was viewed favorably, 51-32%. Now, a majority from each region views the Court unfavorably."
Odds & Ends
Senator Kirsten Gillibrand's favorability rating is 41-31%, down from 46-25% in March. More than one-quarter of voters continue to not have an opinion about her. A plurality, 43%, of voters say they would vote to re-elect Gillibrand, compared to 38% who would prefer 'someone else,' exactly the same as March.
Voters' view on the direction of the state edged closer to break even, with 42% saying the state is on the right track and 48% saying the wrong direction, up slightly from 39-48% in March. The view about the direction of the country was negative in March, 33-57% and fell to 28-63% today.
###
This Siena College Poll was conducted May 7 – 11, 2023, among 810 New York State Registered Voters. Of the 810 respondents, 510 were contacted through a dual frame (landline and cell phone) mode and 300 respondents were drawn from a proprietary online panel (Lucid). Telephone calls were conducted in English and respondent sampling was initiated by asking for the youngest person in the household. Telephone sampling was conducted via a stratified dual frame probability sample of landline and cell phone telephone numbers weighted to reflect known population patterns. The landline telephone sample was obtained from ASDE and the cell phone sample was obtained from Dynata. Data from collection modes was statistically adjusted by age, party by region, race/ethnicity, education, and gender to ensure representativeness. It has an overall margin of error of +/- 4.1 percentage points including the design effects resulting from weighting. The Siena College Research Institute, directed by Donald Levy, Ph.D., conducts political, economic, social, and cultural research primarily in NYS. SCRI, an independent, non partisan research institute, subscribes to the American Association of Public Opinion Research Code of Professional Ethics and Practices. For more information, call Steve Greenberg at (518) 469-9858. For survey crosstabs: www.Siena.edu/SCRI/SNY.