Support for Impeaching/Removing Trump Dips; Independent Support Falls
Trump Ratings Tick Up; Cuomo Ratings Drop
NYC Mayor Favorability: Bloomberg 47-39%; de Blasio 27-56%; Giuliani 30-62%
Loudonville, NY. Joe Biden has opened a 10-point lead among New York Democrats, supported by 24 percent (up from 21 percent last month), followed by Elizabeth Warren with 14 percent (down from 21 percent) and Bernie Sanders with 13 percent (down from 16 percent). Among Democrats, 35 percent say Biden has the party's best chance to win the 2020 election, followed by Warren at 12 percent and Sanders at 11 percent.
By a margin of 52-44 percent – down from 55-38 percent last month – New Yorkers say President Donald Trump should be impeached and removed from office. By a larger 57-38 percent – little changed from 57-36 percent last month – they say the impeachment inquiry is 'fair' rather than a 'partisan attack,' according to a new Siena College Poll of registered New York State voters released today. Trump's favorability, job performance and re-elect ratings all edged up since last month, though still deeply underwater. Governor Andrew Cuomo's favorability and job performance ratings both dropped since October.
"With a little more than two months till Iowa kicks off the 2020 presidential voting and five months till New Yorkers get to weigh in, Joe Biden has opened up a 10-point lead over Elizabeth Warren 24-14 percent, after the two were tied last month," said Siena College pollster Steven Greenberg. "Sanders is right on Warren's heals with 13 percent support, followed by Pete Buttigieg with five percent and Kamala Harris with three percent.
"Biden leads with men and women and he leads upstate and downstate. Among white Democrats, Biden only edges Warren by two points. He has a commanding 24-point lead over Sanders among black Democrats. Sanders and Biden lead with Latino Democrats. Democrats under 35 are solidly in Sanders' camp, as he enjoys an
18-point lead over Warren and leads Biden by 19 points. However, Biden leads by seven points with middle-aged Democrats and a commanding 25 points with Democrats 55 and older. Three in ten Democrats have yet to settle on a candidate," Greenberg said. "Biden is seen as having the best chance to win by 35 percent of Democrats, three times more than Warren or Sanders. "
Support for Impeaching/Removing Trump Slips in Last Month as Independents Now Oppose
"While a majority of New Yorkers continues to support impeaching and removing President Trump from office, the margin has narrowed since last month, as public House impeachment hearings have begun. More than three-quarters of Democrats continue to support it and more than three-quarters of Republicans continue to oppose it," Greenberg said. "However, independents, who were evenly divided on the question last month, now oppose impeachment and removal 59-37 percent. And voters under 35, who had strongly supported impeachment and removal last month, are now nearly evenly divided.
"More than eight in ten Democrats continue to say the impeachment inquiry is fair. However, since last month, a majority of independents went from saying it was fair by eight points to now a majority saying it is a partisan attack by eight points. At the same time, 23 percent of Republicans now say it is fair, up from 15 percent last month," Greenberg said. "And by a wide margin, 54-29 percent, New Yorkers continue to say they trust Speaker Nancy Pelosi to tell the truth more than the President."
Trump – Still Hugely Unpopular in New York – Sees Ratings Tick Up in Last Month
Trump's favorability rating edged up to 32-65 percent, from 30-67 percent last month. His job performance rating is 32-67 percent, up from 28-70 percent. And 31 percent are prepared to re-elect him, with 64 percent preferring 'someone else,' up from 28-68 percent in October.
"Trump is viewed unfavorably by 65 percent of New Yorkers; 67 percent give him a negative job performance rating; and, 64 percent would prefer to vote for 'someone else' next year. And those numbers are all small improvements from last month," Greenberg said. "Republicans continue to support Trump, albeit by smaller margins. While 66 percent of Republicans view him favorably and 66 percent say they are prepared to re-elect him, that support is down from 71 percent favorability and 73 percent re-elect last month. Conversely, independents, who continue to view Trump negatively, are less negative than they were in October."
Cuomo Favorability Dips Back Under Water; Nearly 2/3 Rate Job Performance as Negative
Cuomo has a 44-49 percent favorability rating, down from 49-47 percent in October. His job performance rating is 35-65 percent, down from 41-57 percent last month.
"After two months in slightly positive territory, Cuomo's favorability has fallen back into negative territory, and it's largely because of Democrats. His favorability rating among Democrats is now 59-34 percent, down from
68-29 percent last month," Greenberg said. "Cuomo's job performance rating matches his all-time low from August. While Democrats are evenly divided on the question, more than three-quarters of Republicans and independents give Cuomo a negative job performance rating."
Bloomberg, By Far, Most Popular of New York City's Last Three Mayors
"On the cusp – maybe – of declaring his candidacy for the Democratic nomination for President, Mike Bloomberg has a 47-39 percent favorability rating among all New Yorkers and a 55-36 percent favorability rating among New York Democrats," Greenberg said. "He is, by far, more popular than both his predecessor and his successor. Both Rudy Giuliani and Bill de Blasio have better than two-to-one negative favorability ratings.
"Bloomberg is also the only one of the three to have a positive favorability rating among New York City voters. De Blasio is the only one who is viewed negatively by Democrats, Republicans and independents; Bloomberg is viewed favorably by Democrats and, by a small margin, independents; and, Giuliani is viewed favorably by Republicans. Among black voters, Giuliani is viewed unfavorably by 82 percent, while de Blasio is break even with black voters and Bloomberg is viewed favorably two-to-one."
Odds & Ends
New Yorkers continue to be more bullish on the state than the country. By a 45-42 percent margin, little changed from 46-44 percent last month, voters think the state is headed on the right track. When it comes to the direction of the country, by a 58-32 percent margin (down slightly from 62-31 percent in October), voters say the country is headed in the wrong direction.
Moderate support for legalizing the recreational use of marijuana in New York continues. New Yorkers support it 54-40 percent, virtually unchanged from 54-41 percent last month. In more than two years of asking the question, support for legalization has always been between 52 and 56 percent, while opposition has always been between 40 and 44 percent.
New Yorkers remain closely divided on the new law allowing undocumented immigrants to obtain a driver's license. It is supported by 46 percent and opposed by 50 percent, down from 48-47 percent support last month.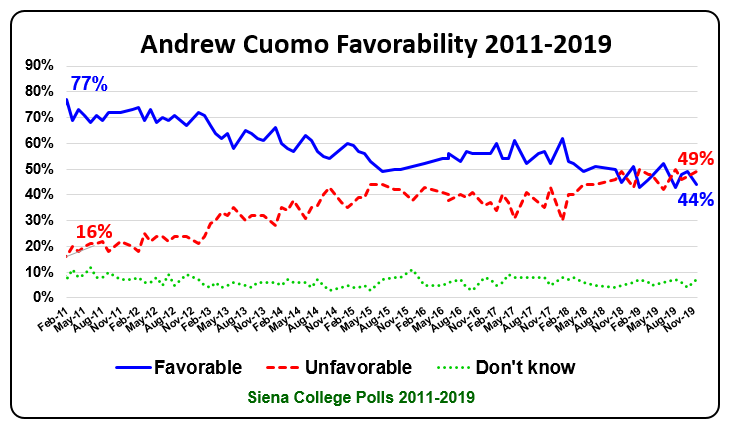 This Siena College Poll was conducted November 12-18, 2019 by telephone calls conducted in English to 797 New York State registered voters. Respondent sampling was initiated by asking for the youngest male in the household. It has an overall margin of error of +/- 4.0 percentage points (+/-5.7 percentage points for 380 Democrats) including the design effects resulting from weighting. Sampling was conducted via a stratified dual frame probability sample of landline (ASDE) and cell phone (Dynata) telephone numbers from within New York State. Data was statistically adjusted by age, party by region, race/ethnicity, and gender to ensure representativeness. The Siena College Research Institute, directed by Donald Levy, Ph.D., conducts political, economic, social and cultural research primarily in NYS. SCRI, an independent, non-partisan research institute, subscribes to the American Association of Public Opinion Research Code of Professional Ethics and Practices. For more information, call Steve Greenberg at (518) 469-9858. For survey crosstabs: www.Siena.edu/SCRI/SNY.